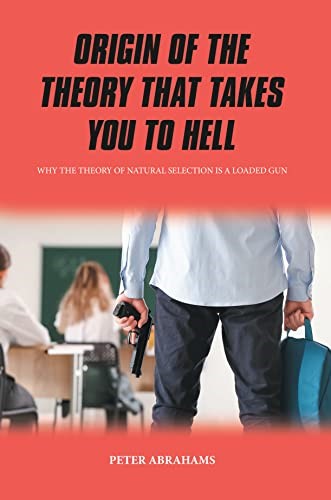 The book ORIGIN OF THE THEORY THAT TAKES YOU TO HELL: Why the Theory of Natural Selection is a Loaded Gun written by Peter W. Abrahams is a wake-up call to how biology has been taught in schools and universities. He fought a spiritual battle for forty years before penning down this book which was a kind of forecast to happen. He decided to become a writer to point humanity in the direction of the right medications that we'll need to take if we are to tackle all the great crises of our period successfully.
Peter finds how biology is taught at schools to be the culprit behind all the sufferings which he entitled "The Stomach Ulcers of Our Time". This 147 pages book is a holy men's take on the theory of natural selection and the concept of survival of the fittest. He begins by categorizing all humans as shepherded either by their ideologies or by the impact of religious teachings. Readers can find this book to be about a battle fought between the believers of the theory of natural selection and believers in the teachings of Christ. He addressed the increase in the sensitivity among people which is causing students across the globe to take their lives over small stress triggers.
Peter has referred to the ever-expanding stomach ulcers in the world in terms of the mindless crimes happening at a shooting rate in every corner of the world. A few to list would be Corruption, Climate Change, self-misdirection, consequences of Global Warming, Crime, Gun Crime, and Suicides. Wrong medications for these severe crimes put him on the pedestal to create this book which was published on March 1, 2023.
He urges his readers to grasp Biology without equivocation to remain sane and rational dealing with social complexities. He finds Biology to be an overall solution to the impulsive decisions taken over tinge of provocation by individuals. And, thus the rightful preaching of Biology as a subject became the focal point of the discussion for Peter W. Abrahams.
His novel Origin of The Theory That Takes You To Hell is sufficient to supply its readers with a balance of knowledge and tenacity and bring a change in the world. Here is the buy link to this inspiring and thoughtful book by Peter W. Abrahams which costs $3.99 for a Kindle edition and $6.99 for a paperback one Origin of The Theory That Takes You To Hell
Media Contact
Company Name: Ink Start Media
Contact Person: Sage Grey
Email: Send Email
Country: United States
Website: https://www.amazon.com/ORIGIN-THEORY-THAT-TAKES-HELL-ebook/dp/B0BXBCDND4/ref=sr_1_1?crid=3C1ZS1QZQS66R&keywords=ORIGIN+OF+THE+THEORY+THAT+TAKES+YOU+TO+HELL%3A+Why+the+Theory+of+Natural+Selection+is+a+Loaded+Gun&qid=1683561782&s=books&sprefix=origin+of+the+theory+that+takes+you+to+hell+why+the+theory+of+natural+selection+is+a+loaded+gun%2Cstripbooks-intl-ship%2C296&sr=1-1