WEEX is a leading platform for cryptocurrency trading, has integrated Alchemy Pay's fiat currency payment solution, known as ACH, to offer its global users a new channel for buying and selling cryptocurrencies in real-time. Starting today, WEEX users can utilize Alchemy Pay's Fiat Onramp service, which supports over 300 payment methods, including Visa, Mastercard, Apple Pay, Google Pay, and more, across 173 countries and regions. This service allows users to directly purchase cryptocurrencies using their local fiat currencies.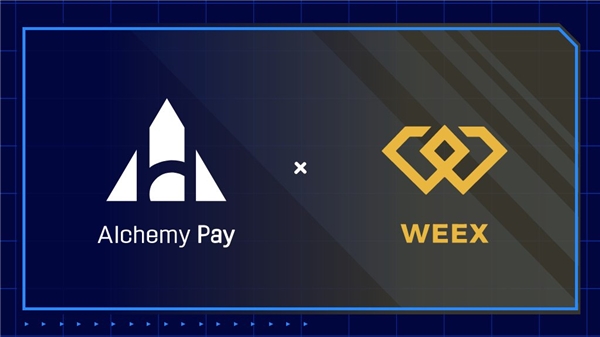 WEEX emphasizes that the integration of Alchemy Pay's Fiat Onramp solution is an expansion to their existing OTC partnership with ChipPay, introducing additional fiat payment channels. The availability of diverse local payment options allows users to complete transactions using the payment methods they are most familiar with. In the future, WEEX plans to introduce more payment partners, providing a secure, compliant, and convenient multi-faceted solution for cryptocurrency trading to its global user base.
In 2023, WEEX is accelerating its global expansion strategy and has already obtained licenses from the US MSB (Money Services Business) and Canadian MSB, while currently applying for regulatory licenses in Hong Kong, Australia, the Philippines' central bank, Malta, and Malaysia. Collaborating with Alchemy Pay to offer fiat-to-crypto and crypto-to-fiat services marks a significant step for WEEX in its journey towards global market expansion and compliance.
Alchemy Pay, as a leading global cryptocurrency payment service provider, operates a payment gateway that supports Visa and Mastercard payments in 173 countries. It also facilitates various bank transfers and third-party payment methods such as Apple Pay and Google Pay. Currently, Alchemy Pay collaborates with over 300 local payment channels in regions like the Philippines, Indonesia, Vietnam, Singapore, Brazil, Peru, Chile, Colombia, and others, serving a user base of over 410 million individuals.
About WEEX Exchange:
WEEX is a futures trading platform emphasizing security and user-friendliness. Established in 2018, the platform currently serves over one million users with an average daily trading volume exceeding $1.5 billion. With secure overseas data protection and a skilled international team, WEEX actively expands its global strategic presence. WEEX has obtained licenses from the US MSB, Canadian MSB, and Saint Vincent FSA, aiming to provide the most professional, secure, and privacy-oriented trading services to global users. To safeguard users' funds, WEEX has set up a 1,000 BTC investor protection fund and publicly disclosed the hot wallet addresses of the fund.
Media Contact
Company Name: WEEX Exchange
Email: Send Email
Country: Singapore
Website: https://www.weex.com