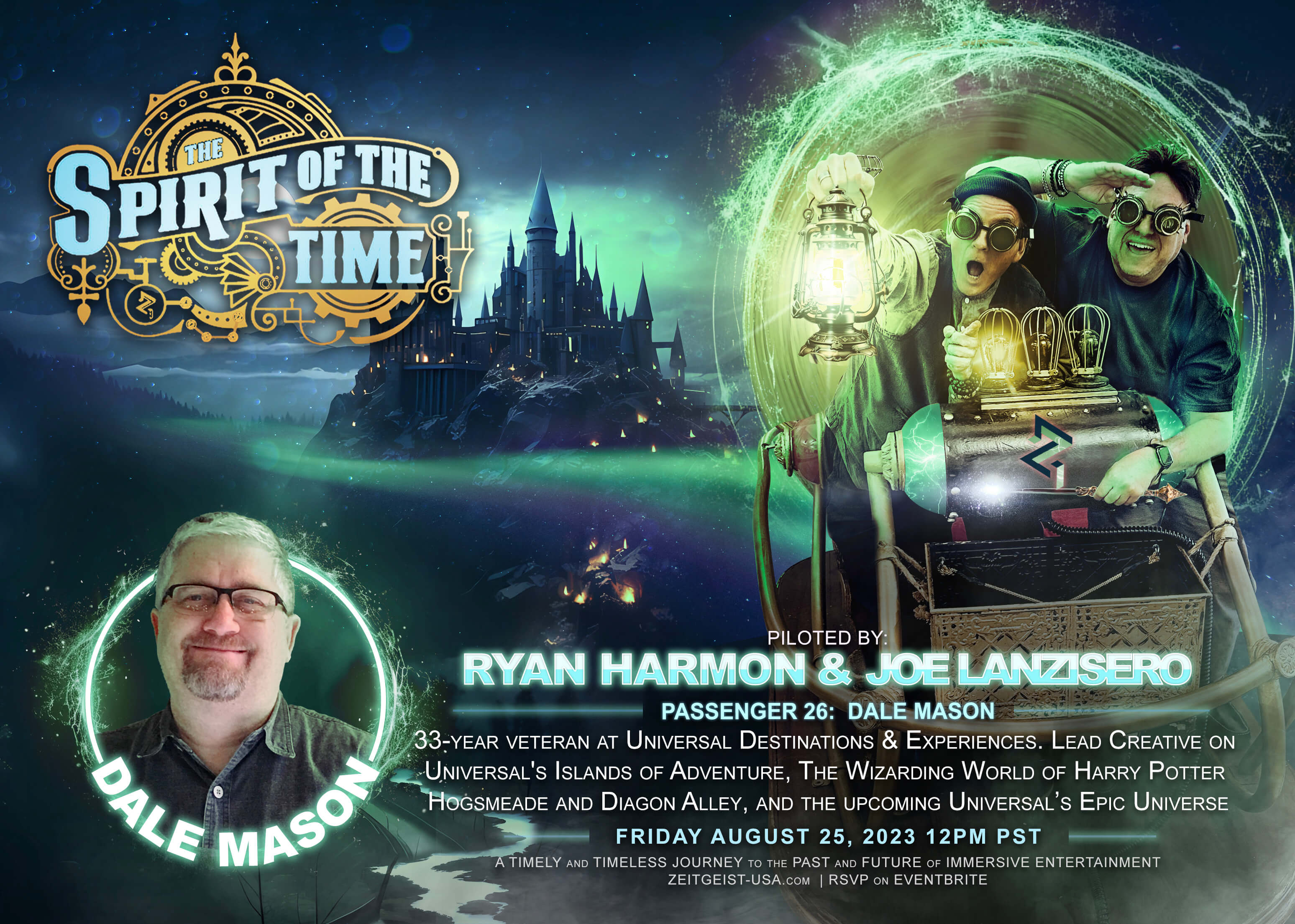 Pasadena, CA - August 16, 2023 - The world's preeminent experiential design agency, Zeitgeist Design & Production, returns with episode 27 of its "Spirit of the Time Zoomcast" featuring time-travel passenger Dale Mason — the theme park icon often referred to as "the Tony Baxter of Universal." 
Launched on April 30, 2021 and hosted by immersive entertainment industry veterans and Zeitgeist executives (and former Disney Imagineers) Ryan Harmon and Joe Lanzisero, the popular live online video interview show offers a sneak peek behind the themes, moving its audience without a ride system each month by inviting one incredibly talented location-based entertainment industry colleague aboard the company's time machine for a journey through milestone moments in that individual's life and career. It's all in an attempt to unravel the mystery of what makes a guest experience timely, yet timeless.
Past passengers include Disney icon Joe Rohde, Universal Creative co-founder Bob Ward, pop culture artist Shag, creative leader Phil Hettema, three of the "Women of Imagineering:" Peggie Fariss, Tori McCullough, and Beckie Bishop, and an epic 2-part journey with the legendary Tony Baxter, himself.
Once archived only as video on the Zeitgeist website and YouTube channel, the entertaining and educational hour-long zoomcast that appeals to fans of theme parks, Disney, Universal, and immersive entertainment worldwide is now available as an audio-only podcast on all popular podcast apps, including Apple Podcasts, Audible, Spotify, and Google Podcasts. Viewing and listening is always free.
On August 25 2023, at noon PST, The Spirit of the Time Zoomcast returns with thirty-three year veteran of Universal Destinations & Experiences, Dale Mason. Dale is a creative visionary who has played a significant role in transforming Universal from a regional studio tour to an owner/operator of world-class parks and resorts around the globe, boasting attractions that push the boundaries of storytelling, technology and tradition. He has served as creative lead on dozens of groundbreaking parks and attractions, including Universal's Islands of Adventure, The Wizarding World of Harry Potter Hogsmeade and Diagon Alley, and the upcoming Universal's Epic Universe. 
"I have been a fan of Dale's since we had the opportunity to work together on the beginnings of Islands of Adventure back in 1993," says Zeitgeist founder and co-host Ryan Harmon. "He's such a creative, out-of-the-box thinker who has accomplished more than most people in our business, yet has chosen to hide behind the proverbial curtain - until now!"
"I had the supreme pleasure of working with Dale on Epic Universe," adds co-host Joe Lanzisero. "I witnessed first-hand his incredible talent and brilliance. He is truly one of those unsung heroes of our industry whose story must be told! And finally we're going to tell it!"
"Set your clocks now for an hour of stimulating conversation and Q&A with one of the world's most creative people," adds the show's announcer Beckie Kiefer. "The Spirit of the Time Zoomcast offers a little bit of time travel, a little bit of theme parkt history, and a whole lot of fun!"
Be sure to tune in as Dale Mason boards the time machine and takes the Spirit of the Time audience back to experience first hand how his upbringing, talents, intuition, and wisdom resulted in some of the most beloved and successful Universal parks and attractions on the planet today!
The Spirit of the Time Zoomcast can be found at zeitgeist-usa.com/zoomcast and on the Zeitgeist Design & Production YouTube Channel. You can also search "Zeitgeist's Spirit of the Time" on your favorite Podcast app.
About Zeitgeist Design + Production 
Founded in Pasadena, CA by 36-year themed entertainment industry veteran Ryan Harmon in 2011, Zeitgeist Design + Production tells the tales of some of the world's most successful brands, intellectual properties, and historical accounts through the creation of UX-IRL — User eXperiences In Real Life, including innovative immersive entertainment, brand experiences, experiential retail and marketing, interactive and multimedia experiences, and more. From the initial creative vision and strategy, to master planning and design, to turnkey production solutions, Zeitgeist Design + Production team members have conceived, designed, and built over $12 billion in successful and beloved guest experiences worldwide for clients including, Walt Disney Imagineering, Disney Cruise Lines, Chimelong Group, Universal Creative, BBC Worldwide, Saudi SEVEN, Hersheypark, Dollywood, and many more.
For more information, please visit zeitgeist-usa.com
Media Contact
Company Name: Zeitgeist Design & Production
Contact Person: Audrey Boyce
Email: Send Email
Country: United States
Website: www.otterpr.com