Leading manufacturer of consumer electronics products, Deji, announces the addition of high-capacity batteries for the iPhone 13 series to its vast inventory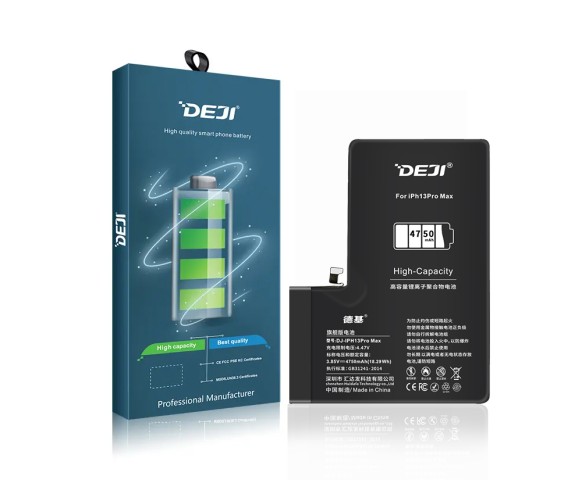 The fast-rising Deji brand has again taken a giant step towards establishing itself as the go-to source for quality mobile phone products as the Shenzhen-based company recently launched high-capacity batteries for the iPhone 13 series. Deji has grown in the past decade to become a household name in the production of batteries for all models and brands of mobile phones, iPad, as well as other consumer electronics products.
The growth in the global mobile phone market has been extraordinary, to say the least, with several brands emerging across the globe to meet the diverse needs of consumers and other stakeholders in the multi-billion-dollar industry. Apple remains one of the biggest brands in the mobile phone market. Unfortunately, fans of the brand like other consumers, often struggle to get the best accessories, especially batteries and chargers. However, Deji has seemingly found the solution to the worries of millions of mobile phone users worldwide by providing quality and relatively affordable batteries, as substantiated by the newly introduced iPhone 13 batteries.
Deji is looking to offer consumers the best of both worlds – affordability, and quality, without necessarily sacrificing comprehensiveness. The company has beefed up its already vast iPhone battery collection to include iPhone 13 Promax Battery 4750mah, iPhone 13Pro battery 3300mah, iPhone 13 Battery 3510mah, and iPhone 13 Mini 2550mah. The decision by Deji to add the iPhone 13 battery series is a reiteration of the company's commitment to its mission of providing quality products and creating a quality life for customers in different parts of the world, irrespective of gender or age group.
The iPhone battery series are all manufactured according to the original quality standard and have a higher capacity than the original battery, ensuring the best possible experience for users. Consequently, iPhone 13 users can enjoy more time with their favorite devices without worrying about their phones going off.
To learn more about the newly launched high-capacity batteries for the iPhone 13 series and other amazing products from Deji, visit - https://www.dejibattery.com/. Deji can also be found across social media, including Facebook and YouTube.
About Deji
Deji is a leading manufacturer of consumer electronics products, including mobile phone batteries, iPad batteries, wireless charging equipment, Power banks, and a host of others. Headquartered in Shenzhen Guangdong, China, the company has grown to become a global name, with a team of researchers and developers helping to deliver products that have the CE, FCC, ROHS, TUV US, PSE, KC, TIS, MSDS, UN38.3, CB-IECEE, IEC62133 certificates and other international certifications to customers worldwide.
Media Contact
Company Name: Shenzhen huidafa(DEJI) technology Co.,LTD
Contact Person: John
Email: Send Email
Phone: +8613823179226
City: Shenzhen
Country: China
Website: https://www.dejibattery.com