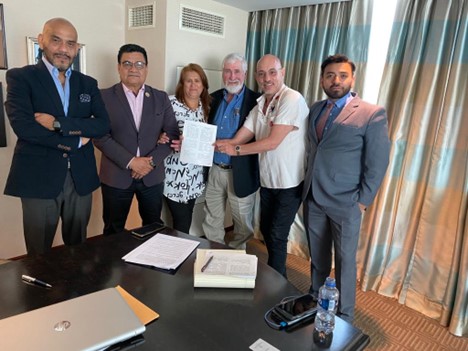 San Antonio, Texas Jun 5, 2023 (Issuewire.com) - MIRAGE ENERGY CORPORATION AND ITS SUBSIDARIES, ANNOUNCE THE SIGNING OF A BINDING MOU AGREEMENT FOR THE DEVELOPMENT/TRANSPORTATION WITH GRUPO CONSTRUCTOR       HERMED, S.A. DE C.V.
MIRAGE ENERGY CORPORATION (OTC PINK: MRGE) and its subsidaries announces it has signed a binding Joint Venture Development Agreement/ Transportation Agreement and off-take agreement. 
This agreement BETWEEN Mirage and Grupo Constructor Hermed, S.A. de C.V. is for the development of three projects Mirage and its subsidaries have been devoting time and money.
CAMPO BRAZIL NATURAL GAS STORAGE PROJECT
REHABILITATION OF SAN FERNANDO CACTUS LINE
REHABILITATION OF DOCKS PIPELINES ON THE ISTHMUS CORRIDOR ALONG WITH MONOBOUYS ON PACIFIC AND ATLANTIC SIDES
FORWARD-LOOKING STATEMENTS:
This press release contains forward-looking statements.  These statements relate to future financial performance.  We intend that such forward-looking statements be subject to the safe harbors for such statements.  We wish to caution readers not to place undue reliance on any such forward-looking statements, which speak only as of the date made.  Any forward-looking statements represent management's best judgment as to what may occur in the future.  However, forward-looking statements are subject to risk, uncertainties, and important factors beyond our control that could cause actual results and events to differ materially from historical results of operations and events and those presently anticipated or projected.
SOURCE: Mirage Energy Corporation   
http://www.mirageenergycorp.com/
Office: 210-858-3970
Media Contact
MIRAGE ENERGY CORPORATION
12108374747
900 ISOM SUITE 306 SAN ANTONIO
Source :MIRAGE ENERGY CORPORATION
This article was originally published by IssueWire. Read the original article here.