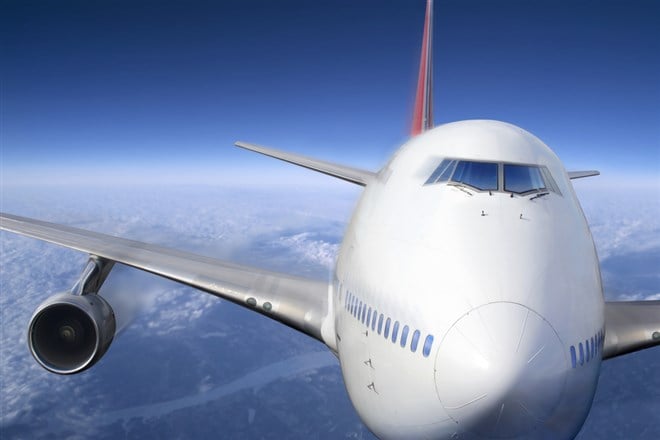 Fasten your seat belts! Airline stocks are off to a fast start this year. Except for sizzling copper stocks, no other group advanced more than airlines (8.8%).
After two years of 20%-plus declines, things may finally be lining up for the embattled industry. 
Just two weeks ago, Southwest Airlines had a holiday season to forget. An operational meltdown (compounded by bad weather) left thousands of travelers stranded — and investors wanting to 'get away' from the group.
Love is suddenly in the air for Southwest and other airlines, and it has little to do with promises of better customer service. The main reason? Oil.
Last week, WTI crude futures declined more than 8%, almost the mirror image of the move in airlines. As more world economies look destined for a recession, demand fears have oil back near 52-week lows and off its recent $120 peak—good news for fuel-guzzling airlines.
But there's more to airlines' recovery potential than cheaper oil. Consumers' willingness to spend on travel and experiences remains resilient despite the inflationary economy. 
Research firm CFRA expects passenger volumes and revenue to grow in 2023. Business and international travel, which have been slower to recover from the pandemic, could lead the way.
These three airline stocks are quickly benefitting from these tailwinds — and still trade for peanuts. 
What is a Good Under-the-Radar Airlines Play? 
Hawaiian Holdings, Inc. (NASDAQ: HA) is the nation's 10th largest airline by domestic revenue passenger miles. Yet it boasts one of the industry's best one-year operating revenue growth rates (89%). This reflects a sharp recovery in leisure travel to and from the Hawaiian islands. When the company reports fourth-quarter results on January 24th, Wall Street will look for 48% top-line growth, which would mark an acceleration from Q3. 
Besides the tropical travel rebound, a new partnership with Amazon is another reason to like the stock. In October 2022, the Hawaiian Airlines parent announced an eight-year deal to provide flight operation and maintenance services for the e-commerce giant's air cargo business. The clever move will give Hawaiian a valuable new revenue stream to help offset what can be bumpy quarter-to-quarter results.
The small-cap airliner has bounced 22% off its December 28th low but could have a way to travel based on the MarketBeat consensus price target. A $15 analyst target points to 27% upside. Aloha, Hawaiian Holdings!
Which Airline Has the Largest U.S. Market Share?
American Airlines Group Inc. (NASDAQ: AAL) edged out its big four airline peers for the top U.S. market share in the 12-month period that ended in August 2022. The company recorded a second consecutive profitable quarter in Q3 and is forecast to be profitable again in Q4. However, better performances haven't come without concerns, with rising pilot salaries and a hefty debt burden keeping buyers at a distance. 
However, market sentiment may change, with the stock finishing last week on a six-day, 15% run. In addition to declining oil, soaring air travel demand has management anticipating Q4 revenue to be about 12% above 2019 levels. This means American is flying past recovery mode and into growth mode. 
Granted, elevated expenses, including debt interest, are still an issue, but growth beyond the pre-Covid days is an encouraging sign. With the stock trading at 9.5x this year's earnings estimate, American Airlines could soon be boarding more investors.
Is it a Good Time to Invest in JetBlue Stock?
Last year, the headlines around JetBlue Airways Corporation (NASDAQ: JBLU) revolved around the pending takeover of Spirit Airlines. In 2023, the market may finally be able to re-focus on the business itself. 
The low-cost airline flashed signs of an ability to fly with or without Spirit in Q3. It posted its first quarterly profit since the early pandemic thanks to revenue passenger miles and load factor increases that were only partially offset by higher operating costs. 
On top of cheap fares, JetBlue is winning over travelers with unique in-flight offerings like free high-speed Wifi and seatback screens. Last month, it joined forces with Peacock on 'Overhead Binge', making the NBCUniversal arm its exclusive streaming partner.
Although federal regulatory hurdles remain, Spirit Airlines recently indicated that its merger with JetBlue is on track to close in the first half of 2024. This would make it the country's fifth-largest airline and a formidable new threat to the big four. 
Before the big news potentially breaks, investors may want to book an advanced seat. Down 67% from their post-pandemic peak, JetBlue shares have lots of legroom for a rebound trip.