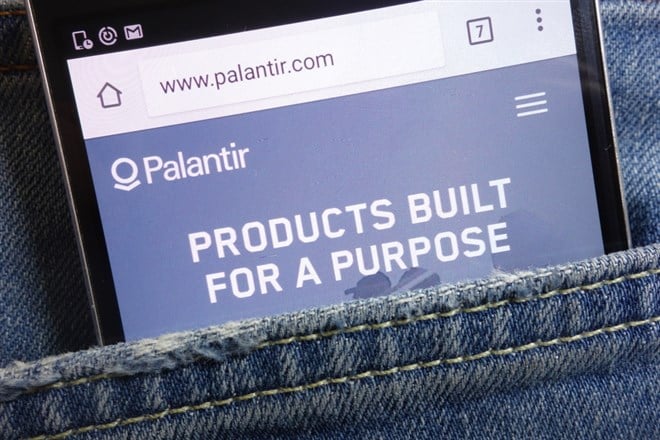 Enterprise and government software platforms provider Palantir Technologies Inc. (NASDAQ: PLTR) stock surged 13% on its Q4 2022 earnings release. After 19 years, the Company had its first GAAP profitable quarter. The blossoming mainstream interest in artificial intelligence (AI) has also bolstered demand for its AI-powered platforms.
The accelerating embrace of AI by enterprises across all industries has been incredibly beneficial for the Company. The newfound demand will drive growth toward its first profitable year. It appears that $45 million of the $31 million of GAAP profits came from "other" revenue sources.
Nonetheless, the Company is entering a new era not just of profitability but one where more of its top-line revenues turn into bottom-line profits. 
Anchored Government Contracts
Palantir's bread and butter lie with government contract revenues, recession-proof, along with education and healthcare. The Department of Defense uses Palantir's software to consolidate command structure and more clandestine purposes. Palantir's software foiled a "plot to overthrow the German government," as Palantir COO Shyam Sankar revealed in its Q4 2022 conference call. It's no secret that Ukraine is using Palantir software in its war on Russia.
The CDC has been using its platform all through the pandemic. Government revenues grew 23% YoY to $293 million out of $509 total million in the latest quarter. U.S. government revenues grew 22% to $225 million.
Expanding Commercial Customer Base
Palantir has been nicely growing its commercial business. Its commercial customers grew to 260, with the top 20 bringing in $49 million on a trailing twelve-month (TTM) basis. Those stats imply 77% and 13% YoY growth, respectively. U.S. customers rose 79% to 132, and it converted 13 pilots in the quarter. Ferrari NV (NYSE: RACE) has been using Palantir software to win races. PG&E Corp. (NYSE: PG) has been using Palantir's Foundry platform to stop forest fires.
Its software helped deliver $200 million in return to Tyson Foods Inc. (NYSE: TSN). Widely known retailers, including the Coca-Cola Company (NYSE: KO) and Walmart Inc. (NYSE: WMT), use Palantir. JPMorgan Chase & Co. (NYSE: JPM) and Credit Suisse Group AG (NYSE: CS) are Palantir customers.
Commercial Growth Driver
Palantir CEO Alex Karp wrote in his Annual Letter, "The need for commercial enterprises to reimagine how they relate to data, and to invest in the software platforms that will make their continued survival possible, has never been greater.
When we were just starting out, many doubted our ability to evolve beyond anything more than a specialty provider of software to a handful of government customers, let alone generate meaningful revenue from the government sector as a whole. They were wrong."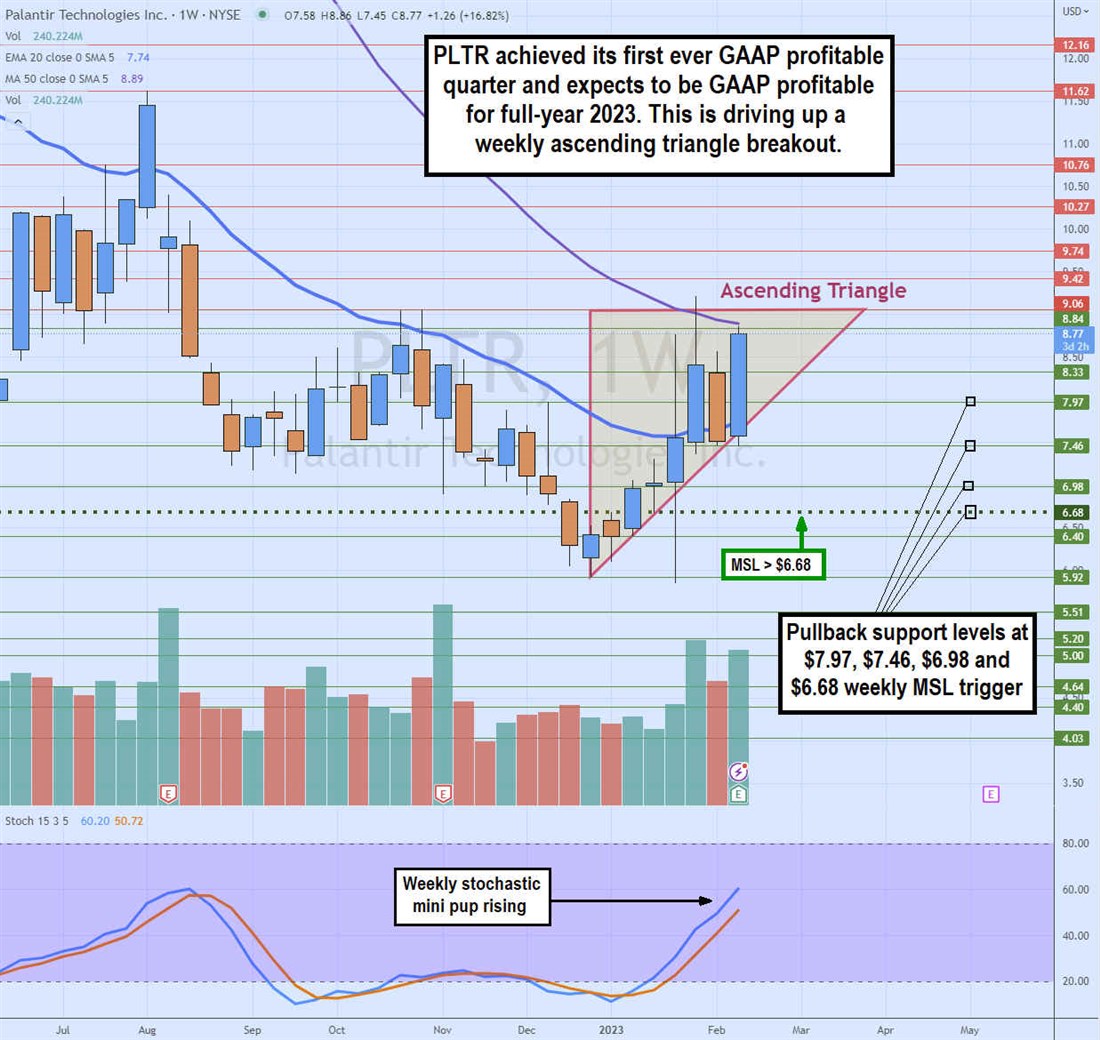 Weekly Ascending Triangle Pattern
PLTR weekly chart illustrates a weekly ascending triangle pattern. PLTR hit a low at $5.92 in late December 2022. Shares staged a rally into the new year as the weekly market structure low (MSL) breakout formed through $6.68.
The weekly stochastic finally bounced through the 20-band in January 2023 after being smothered below and around the 20-band for over four months. PLTR has kept making higher weekly lows on pullbacks while higher highs towards the $9.06 upper trendline of the triangle. An ascending triangle is a flat top with rising lows that eventually meet near the apex point for a breakout through the flat top resistance or breakdown under the rising trendline.
The weekly 20-period exponential moving average (EMA) support sits at $7.76, with the weekly 50-period MA resistance at $8.89. Pullback support levels are $7.97, $7.46, $6.98, and $6.68 weekly MSL trigger.
Q4 Fiscal 2022 Earnings Release
On Feb. 13, 2022, Palantir reported its fiscal Q4 2022 results for the quarter ending December 2022. The Company reported an earnings-per-share (EPS) profit of $0.04, beating consensus analyst estimates for a profit of $0.03 by $0.01. It reported a GAAP EPS of $0.01 or $31 million of GAAP net income. Adjusted income from operations was $114 million. Revenues grew 17.5% YoY to $508.62 million, beating analyst estimates of $504.84 million. U.S. revenues grew 19% YoY to $302 million. Commercial revenues grew 11% to $215 million. Government revenues grew 23% to $293 million. U.S. government revenues grew 22% to $225 million. Customer count grew 55% to 9$ quarter-over-quarter (QoQ).
Profitability for 2023
Palantir expects Q1 2023 revenues between $503 million to $507 million. Adjusted income for Q1 2023 is expected between $91 million to $95 million. Full-year 2023 revenues are expected between $2.18 billion to $2.23 billion. Adjusted income is expected between $481 million to $531 million. It expects to be GAAP income profitable for the full-year 2023.
Commitment to Profitability
CEO Karp commented on their commitment to profitability in the conference call Q&A, "A different version of that is we will maintain our discipline around GAAP profitability precisely because the world is recognizing our crucial contribution to the West. We see this in war. We see this in the commercial areas. We see this in health care. We see this where people are embracing technology, especially in the U.S., especially around AI, especially around AI with security models, in private networks."