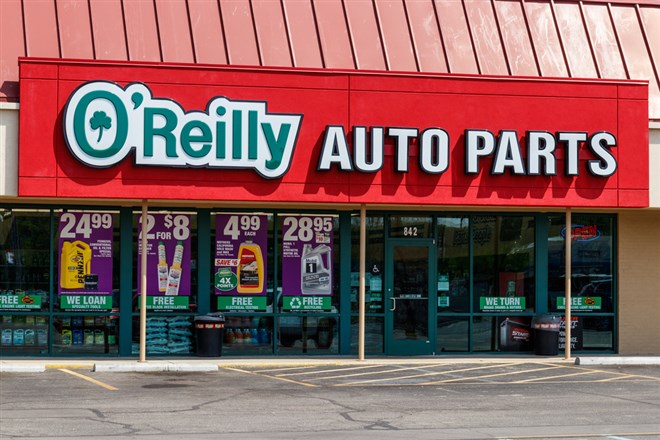 O'Reilly Automotive Inc. (NASDAQ: ORLY) is in buy range after clearing a base with a buy point north of $856.57. Investors hit the accelerator on February 9 following the company's better-than-expected fourth-quarter report. 
The company cited strength in both the consumer DIY segment, as well as in the professional segment but noted some headwinds facing the DIY business. 
Earnings came in at $8.37 per share, up 10% from the year-earlier quarter. Revenue was $3.644 billion, a year-over-year increase of 11%. 
Analysts' consensus rating is "moderate buy," according to MarketBeat data. The price target is $859.60, right around where the stock is currently trading. 
Remember: A price target is a consensus of analysts' views relative to a stock's valuation. It's not a recommendation to buy, sell or hold. 
In O'Reilly's case, analysts who recently reiterated or boosted targets or initiated coverage typically see the price rising in the next 12 to 18 months. 
Professional Segment Leading The Way
In the earnings call, chief operating officer Brad Beckham said, "We saw strength in both our DIY and professional businesses, with professional again leading the way with double-digit comparable store sales growth on robust increases in both ticket counts and average ticket size."
Beckham added that the company expects both its DIY and professional businesses to be positive contributors to comparable store sales growth this year, with the professional segment again expected to outperform.
To some degree, companies like O'Reilly and its industry peers, including AutoZone Inc. (NYSE: AZO), Advance Auto Parts Inc. (NYSE: AAP) and Genuine Parts Co. (NYSE: GPC) have some recession-resistant qualities. Whether or not a recession hits, businesses and consumers still need properly running vehicles, which requires spending. 
 For 2023, O'Reilly expects to open between 180 and 190 new stores, net of others that may be closed. It expects total revenue in range from $15.2 billion to $15.5 billion, with diluted earnings per share in a range from $35.75 to $36.25.
According to FactSet, Wall Street's consensus estimate is still a little higher, coming in at $36.87. That estimate was recently revised lower. According to MarketBeat earnings data for O'Reilly, the company topped earnings and sales views in the past two quarters. 
Looking ahead to the full year, Beckham added that the company believes the strength of the professional business will continue to accelerate growth. 
Cautious Optimism About DIY Segment
"We also see significant opportunity to grow our DIY business but are more cautious in how we view our ability to increase ticket counts on a year-over-year basis," he said. "Our DIY ticket counts in 2022 were pressured compared to 2021, as we were still calendaring the impact of government stimulus and faced headwinds from gas price shocks and inflation."
Beckham said the company believes it's passed the artificial spikes in demand due to stimulus checks and higher vehicle prices, which drove more customers to repair existing cars and trucks. 
Throughout February, the market will get more information about the overall roadworthiness of auto parts retailers. 
Genuine Parts reports earnings on February 23 and Advance Auto Parts and AutoZone on February 27. 
MarketBeat analyst data show the following ratings on stocks in the auto parts industry:
O'Reilly cleared a double-bottom base, which you can see on its chart, using a candlestick or bar view. O'Reilly, an S&P 500 component, outperformed its index in the sessions following its fourth quarter. As of February 16, it was trading less than 1% above its buy point, meaning it remained in a viable buy range and hadn't risen so far that investors risked a shakeout if they chased the stock.
It, along with AutoZone, has posted the best price and earnings performance among auto parts retailers.