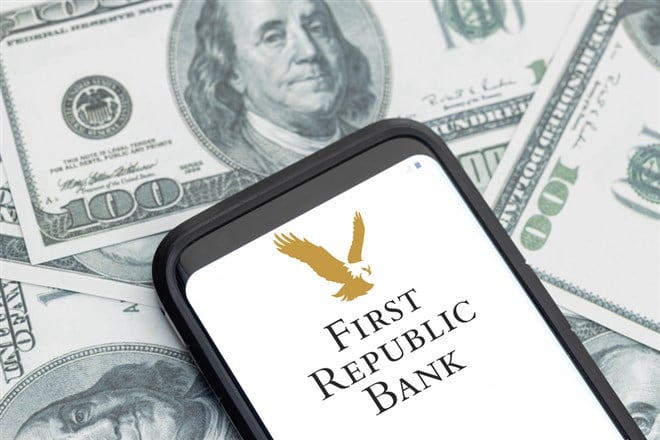 Shares of First Republic Bank (NYSE: FRC) are down 65% in a single day, extending its total decline to over 90% and counting. The reason is the growing risk in the financial system that is evidenced by the collapse of Silvergate Bank, Silicon Valley Bank, and Signature Bank. The opportunity is that some intelligent people think the run on Silicon Valley Bank was overdone and the collapse was unnecessary.
This, along with the support of JPMorgan Chase (NYSE: JPM) and the Federal Reserve, has First Republic Bank set up for a rebound, but will it happen? The stock is trading at IPO levels, with prices not seen in over a decade, and the outlook is positive if not guaranteed, so there is a chance that it will. 
First Republic's fall is all the more shocking, given the support of JPMorgan. JPMorgan and the FOMC have brought available capital up to over $70 billion, which should be ample to sustain the business.
Regarding the business, this company has some of the same exposures as Silicon Valley Bank but not to the same extent. Silicon Valley Bank's deposits were estimated at over 80% non-insured while a recent filing has First Republic's average consumer account under $200,000, the average business account under $500,000, and no sector representing more than 9% of the portfolio. 
"First Republic's capital and liquidity positions are very strong, and its capital remains well above the regulatory threshold for well-capitalized banks," said Founder and Executive Chairman Jim Herbert and CEO and President Mike Roffler. "As we have done since 1985, we operate with an emphasis on safety and stability at all times, while maintaining a well-diversified deposit base."
Analyst Sentiment Softens, First Republic Still A Buy 
At least 3 analyst firms have come out with price target reductions or downgrades of this stock, but the takeaway remains bullish. Two downgrades are to Market-Perform from Strong Buy and Outperform at Raymond James and Wolfe Research while the price target reduction is from $168 to $130.
Compass Point downgraded the stock to Neutral, but this price target is 330% above the price. We can assume the consensus target will trend lower over the next few days or weeks, but if the new targets are consistent with this target, the stock will bottom and rebound. 
Analyst David Long of Raymond James downgraded to Market Perform with no price target, thinking First Republic's issues are near-term. The risk of deposit outflows could cut into earnings, but there is an upside risk. The company's diversified model may provide the insulation it needs to outperform newly lowered expectations and spark a rebound in the share price.
This is assuming the institutions don't start shedding shares. The institutions own about 95% of the company and would be a formidable headwind to the market regardless of the company's underlying performance. 
The Technical Outlook: 13 Years Wiped Out In A Week
The monthly chart of FRC is shocking because this stock has only trended upward since its IPO, and those 13 years of gains were wiped out in about a week. The stock may make a rapid recovery if the Fed can calm market nerves but even so, there will be resistance to higher prices that may be substantial. Until then, this sell-off appears to be overdone and ripe for a rebound. The questions are how high will it go, how quickly, and how long will it stay at that price?