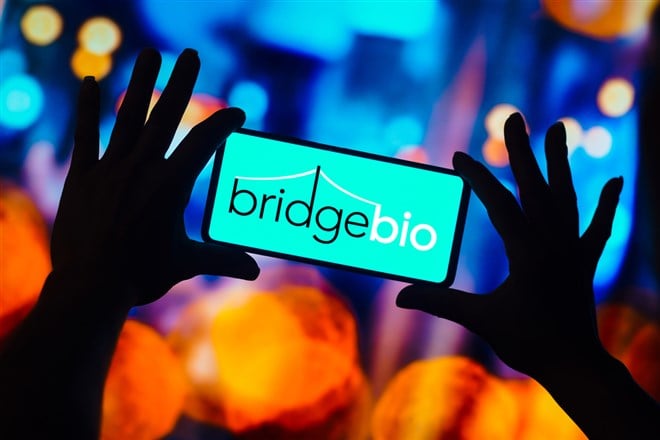 Two years ago, BridgeBio Pharma, Inc. (NASDAQ:BBIO) shares reached a record high above $72. A little over 12 months later, they dipped below $5.
The Palo Alto-based company's susceptibility to extreme price swings was on display again last week, albeit on a smaller scale. Positive results in a study of BridgeBio's infigratinib candidate sent the stock on a 71% two-day run. From there, word that new equity shares would soon be issued caused the stock to drop 29%.
BridgeBio's roller coaster ride isn't unusual in a biotech industry that has been especially volatile in 2023. With risk-on conditions in full effect, the Nasdaq Biotechnology Index had a strong January. But as the market has grown more weary of Fed rate hikes, it has since underperformed.
Why Did BridgeBio Stock Go Up?
On March 6th, BridgeBio announced favorable phase 2 data of infigratinib in children with achondroplasia, a genetic disorder that inhibits bone growth and leads to dwarfism. In an evaluation of 10 patients, the treatment demonstrated a 3.03 centimeter average increase in annualized height velocity (AHV). A median AHV of 7.6 centimeters per year exceeded the 99th growth percentile for children living with achondroplasia (which affects more than 50,000 people in the U.S. and Europe).
Since patients in the phase 2 trial also experienced no adverse events, the news was perceived as a big win for BridgeBio. 
The encouraging results prompted BridgeBio to enroll patients for a pivotal Phase 3 trial. Management also said it plans to start clinical development for infigratinib to treat hypochondroplasia, a closely related disorder. Positive preclinical data for this second indication was presented at two industry conferences last year.
Why Is Biotech Investing So Risky?
BridgeBio's recent volatility is a perfect example of how good news often turns into bad news for biopharmaceutical companies. When a company achieves success in a clinical study, it often comes with the need to raise more money to develop the drug candidate further. This involves reaching out to the capital markets for additional equity financing.
In BridgeBio's case, it meant following up the positive trial headline with a $150 million stock offer. The offer could climb to as much as $172.5 million if underwriters opt to buy extra shares. Before the market open on March 8th, BridgeBio announced that the new shares will be priced at $17.00. Since the stock closed at $18.55 the day before, a selloff ensued.
Pricing dynamics aside, the bigger picture is that when a company issues more shares to the public, it dilutes existing shareholders. Previously held shares have a reduced claim on company profits because the wealth must be spread among more investors. With many biotechs (like BridgeBio) still unprofitable, the share issuance can be even harder to accept. 
In addition to a propensity to dilute investors, biotech companies carry the risk that their products never get commercialized. Many clinical trials don't go as planned. When a negative result is announced, a biotech stock tends to get clobbered because it can mean the end of the road for the product under development. It can also damage the reputation of the company's technology platform putting other pipeline candidates at risk. 
On top of the clinical uncertainty, biotech stocks face immense regulatory uncertainty. The FDA imposes many regulations and hurdles that can make the drug approval process long and daunting. Toss in the competitive pressures created by companies developing similar therapies and biotech risk mounts higher.
Is Wall Street Bullish on BridgeBio Stock?
Of course, with high risk comes the potential for high rewards, which is the allure of biotech stocks. But with some 700 U.S.-listed biotech names to choose from, finding potential winners can be overwhelming. 
Some investors prefer biotech companies that have already brought a product (or multiple products) to market. They tend to be more established in their disease specialties and have known revenue streams.
Others prefer to take a shot at an upstart biotech that does not have a commercialized product but does have good growth prospects. Such stocks can be more volatile but come with home run potential if FDA approval is eventually attained.
BridgeBio falls somewhere in between. The company has a pair of products that have reached the commercial stage for cancer and a rare disease called MoCD. It also has several pipeline candidates that are in pre-clinical and clinical phases. 
This mix combined with the recent news on infigratinib is why Wall Street is unanimously bullish on BridgeBio. Since the positive achondroplasia results were released, six analysts have reiterated their buy ratings on the stock. The group's average price target is $24.50. After the late-week pullback, this implies more than 70% upside. Sound familiar?