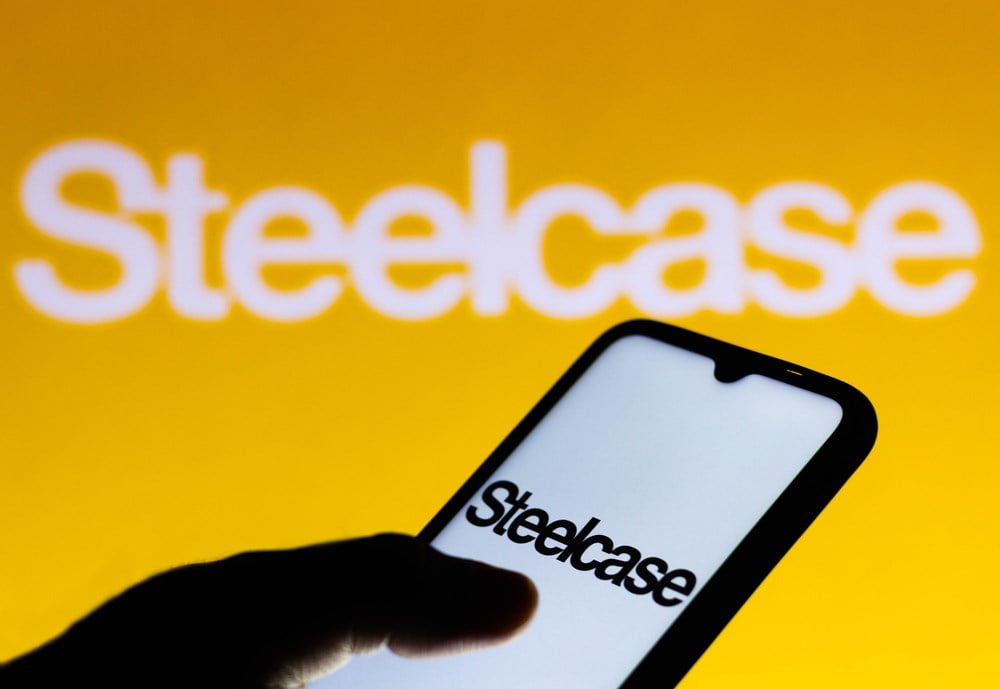 Office furniture maker Steelcase Inc. (NYSE:SCS) stock may be staging a turnaround as it attempts to break out of a weekly descending triangle price pattern. Steelcase manufactures and sells office furniture to large corporations, hospitals, schools, and the government and sells its products through an extensive dealer network. The pandemic lockdowns crushed its business as workers stayed home and offices were left vacant.
The reopening has caused business to rebound. It competes with office furniture makers Herman Miller Inc. (NASDAQ: MLHR), which acquired competitor Knoll Inc. in 2021, and HNI Corp. (NYSE: HNI), which recently announced the acquisition of competitor Kimball International Inc. (NASDAQ: KBAL).
Pricing Gains
The company benefited from higher prices, more substantial orders, and improved fulfillment rates to increase sales. The company saw significant improvements in its supply chain. By the end of the year, 96% of its products were at standard lead times. Inflation levels are beginning to moderate, mainly in the Americas, as Europe struggles with energy and commodities pricing.
Growth Drivers
The reopening trend has gotten many large enterprises to re-adopt workplace strategies leaning on in-office presence. The company is also bolstering its efforts in education, becoming a leader in providing classroom furniture solutions for grades K through 12. Its AMQ business is focused on accommodating small and medium-sized businesses, with 32% growth in fiscal 2023. It's also working to grow its higher-margin direct-to-consumer (DTC) business. Steelcase has also created modern and contemporary hybrid work furnishings solutions.
Handily Beat
On March 22, 2023, Steelcase reported Q4 fiscal year 2023 earnings for the quarter ending December 2022. Non-GAAP earnings per share (EPS) came in at $0.19 versus $0.11 consensus analyst estimates, a $0.08 beat. Revenues rose 6.5% year-over-year (YoY) to $801.7 million beating $751.38 million consensus analyst estimates. Pricing benefits helped to improve operating margins by 330 bps. YoY order declines moderated to (8%) compared to (17%) in Q3 2022.
For the fiscal year 2023, Steelcase had 17% YoY revenue growth and significant earnings improvement despite economic uncertainty. Revenue growth was driven primarily by the 14% growth in the Americas, in which EMEA fell (6%), and the Other Category dropped by (13%), comprised mainly of Asia Pacific and COVID-related restrictions in China. Higher pricing was the main driver for the growth in the Americas. The backlog at the end of Q4 2023 was $690 million, down (14%) YoY.
Steelcase CEO Sara Armbruster commented, "Although our fourth quarter orders were below the prior year, project business from large corporate customers improved sequentially from the third quarter. We've seen opportunity creation in the Americas grow on a year-over-year basis for eight of the last nine months, and in recent months, a notable number of larger companies in the United States have announced workplace strategies that emphasize the importance of an in-office presence."
Upside and In-Line Guidance 
Steelcase raised its fiscal Q1 2024 EPS guidance between $0.01 to $0.05 versus $0.00 analyst estimates. It expected revenues to come between $710 million and $735 million versus $693.77 million consensus analyst estimates. The company expects fiscal full-year 2024 EPS between $0.55 to $0.75 versus $0.59 consensus analyst estimates.
Weekly Descending Triangle Breakout
A descending triangle pattern comprises lower highs on bounces and flat lows on drops. The flat low is the triangle's lower trendline, and the lower highs make up the triangles falling trend line. SCS started its weekly triangle upon triggering the weekly market structure high (MSH) breakdown under $11.78. Shares fell to a low of  $6.11 in December 2022 before staging a rally back up through the weekly market structure low (MSL) buy trigger at $7.25.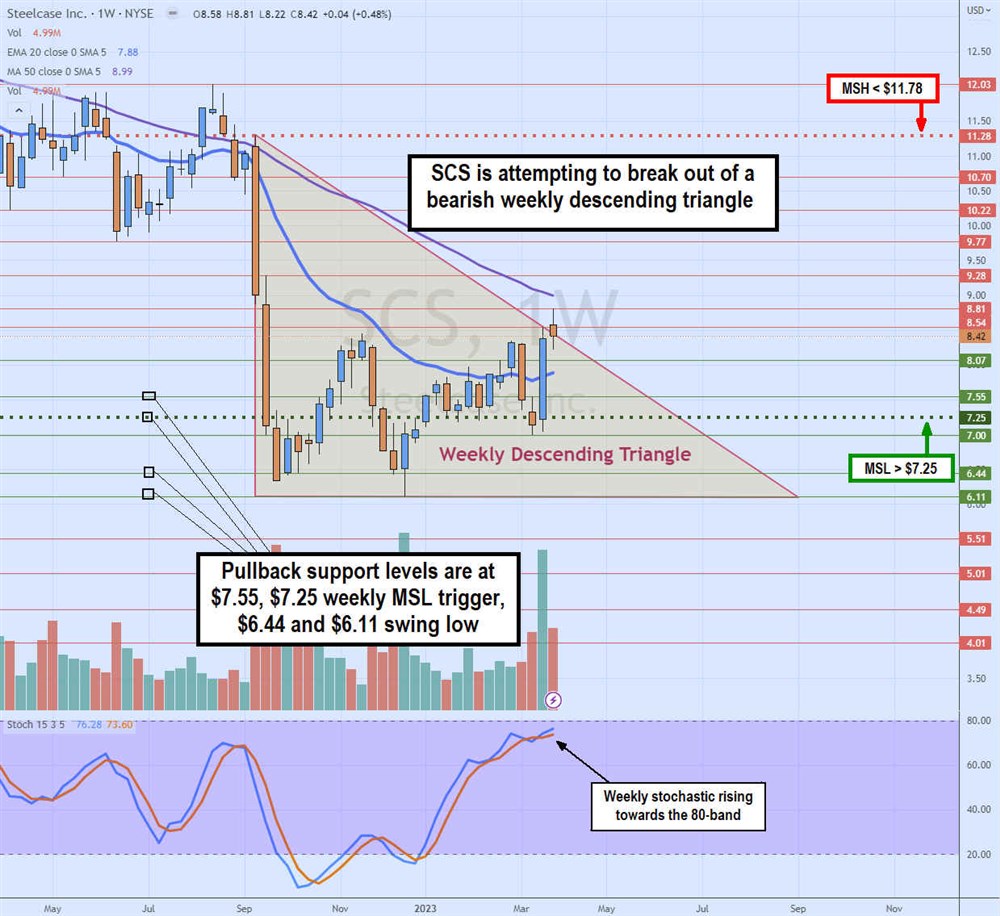 Shares closed at the falling trendline, and SCS will either break out of the descending triangle or fall back toward the flat trendline at $6.11. The next lower high formed at $8.42 as the weekly stochastic attempts to retest the 80-band. The weekly 50-period exponential moving average (EMA) support sits at $7.88, with a 50-period MA resistance at $8.99. Pullback support is at $7.55, $7.25 weekly MSL trigger, $6.44, and $6.11 swing low.