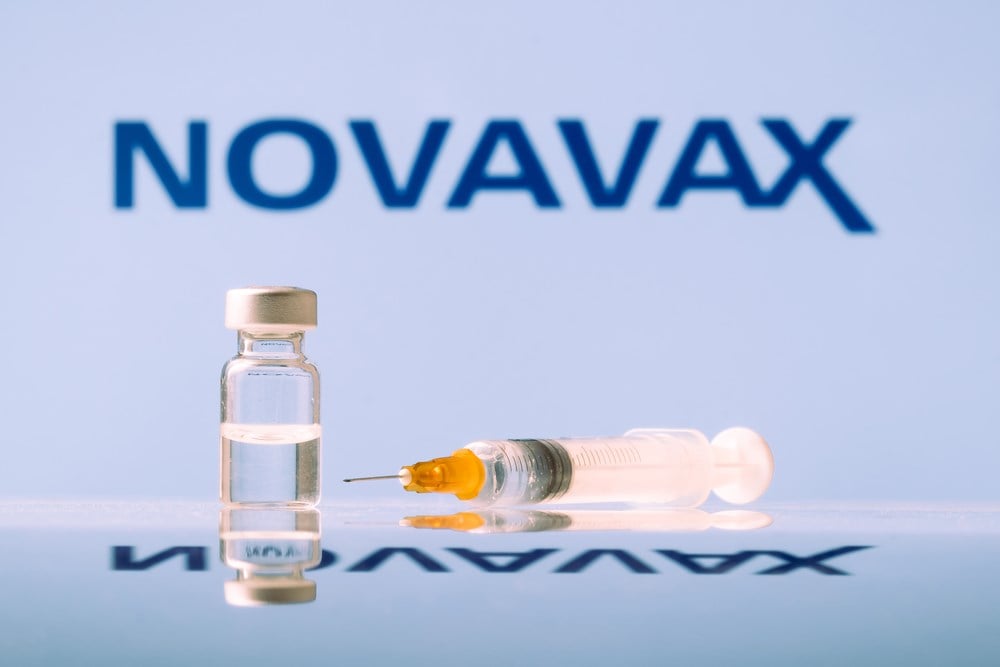 Vaccine developer Novavax Inc. (NASDAQ: NVAX) stock shot up 28% following its Q1 2023 earnings report. The company specializes in vaccines for infectious diseases, including COVID-19, influenza, respiratory syncytial and Ebola. Its shares ran up to $331.68 on Feb. 9, 2021, on its COVID-19 vaccine, Nuvaxovid or NVX-CoV2373. This vaccine was administered in two doses. It was found to be 90.4% effective in preventing COVID-19 and 86.4% in preventing COVID-19 hospitalization.
Unfortunately, it was late to the party as Pfizer Inc. (NYSE: PFE) and Moderna Inc. (NASDAQ: MRNA) supplied most of the COVID vaccines to the U.S. government by that time. Shares have been punished, falling to a low of $5.61 on March 23, 2023. Before the COVID pandemic, Novavax shares were trading between $4 to $6 in December 2019. Shares returned to that level preceding its earnings report.
Late to the Party
Novavax didn't receive emergency use authorization (EUA) status for its COVID-19 vaccine from the U.S. Food and Drug Administration (FDA) until the end of 2021, which was its first FDA-approved drug in more than two decades. It was the fourth approved COVID vaccine in the U.S. behind Pfizer, Moderna, and Johnson and Johnson (NYSE: JNJ).
The company chose to develop a traditional protein-based versus mRNA vaccine, which takes longer. Novavax also had to construct new manufacturing facilities to handle the expected demand for its vaccine after encountering delays.
Slow and Steady Doesn't Win the Race
At that point, people were already beyond their third booster shot, leaving a minimal market share of available users. Novavax reported $1.9 billion in COVID-19 vaccine sales in 2022, mainly to the U.S. government. This pales compared to the $37.8 billion generated by Pfizer's COVID vaccine sales and the $18.4 billion in sales for Moderna's COVID vaccine in the same year. Novavax continues evaluating its NVX-CoV2373 against variants and strain changes for future approvals.
The company seeks to supply its vaccine to developing countries and patients that can't tolerate mRNA vaccines. It recently received approval from Singapore for its vaccine to be administered to adolescents aged 12 to 17. It Is still trying to coordinate with the U.S. government for participation in national public health programs and expects to file BLA with the FDA in the second half of 2023.
Re-Funding Problems
Novavax has $1.34 billion in cash. However, it may have to refund all or part of the $700 million advanced payment agreement (APA) paid to the company by GAVI, a vaccine alliance formed in 2020. GAVI had an APA for purchasing 350 million doses of Novavax's COVID vaccine but only requested 2 million doses. GAVI claims Novavax hadn't the resources to deliver the vaccine volume, while Novavax argues GAVI reneged on the contract. This is ongoing litigation but will likely result in a refund. The U.S. government also notified the company that its agreement for the remaining $460 million funds would end in December 2023 and not be extended. Novavax claims it has $2.1 billion of APA outside the U.S. for its COVID vaccine, but there's no guarantee they will be fulfilled.
Less Red, But Still Red
On May 9, 2023, Novavax released its fiscal first-quarter 2023 results for the quarter ending March 2022. The company reported an earnings-per-share (EPS) loss of ($3.41) versus ($3.56) consensus analyst estimates, a $0.06 beat. The company saw revenues plummet 88.5% year-over-year (YoY) to $81 million, falling short of analyst estimates of $94.52 million. The company has a global restructuring plan to reduce SG&A expenses by 40% to 50%. It also raised revenue guidance for full-year 2023 of $1.4 billion to $1.6 billion versus $831.5 billion. The company also achieved positive phase 2 trials of its combination COVID-influenza, high-dose COVID, and standalone influenza vaccine.
Novavax CEO John Jacobs commented, "Today, we outlined significant measures to reduce spending, extend our cash runway, and operate more efficiently. Combined with our focus on revenue generation from Nuvaxovid™ and management of our current liabilities, these measures should strengthen our cash position and our potential for the long-term growth and stability of Novavax."
Novavax analyst ratings and price targets can be found at MarketBeat.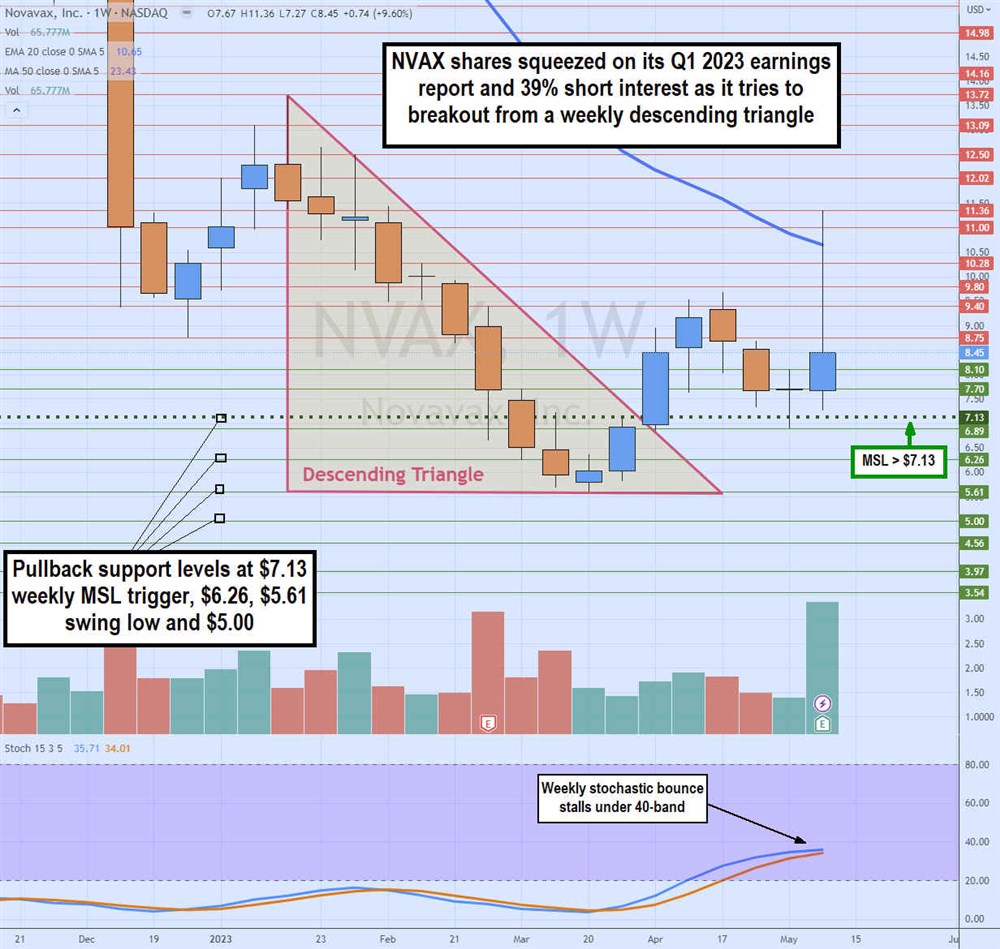 Weekly Descending Triangle Breakout
The NVAX weekly candlestick chart formed a descending triangle after peaking at $13.72 in January 2023. Shares continued to sell off until hitting a swing low at $5.61. Shares triggered a weekly market structure low (MSL) breakout through $7.13 as the weekly stochastic climbed through the 20-band. The breakout through the MSL also was the breakout through the falling trendline of the weekly triangle hitting a high of $9.68 in April 2023 before falling back down to retest the MSL trigger level at $7.13.
Shares exploded through the weekly 20-period exponential moving average (EMA) at $10.65 to peak at $11.36 on its Q1 2023 earnings release. NVAX shares fell back into the $8 range, stalling the weekly stochastic bounce under the 40-band. Pullback support levels are at $7.13 weekly MSL trigger, $6.26, $5.61 swing low and $5.00.