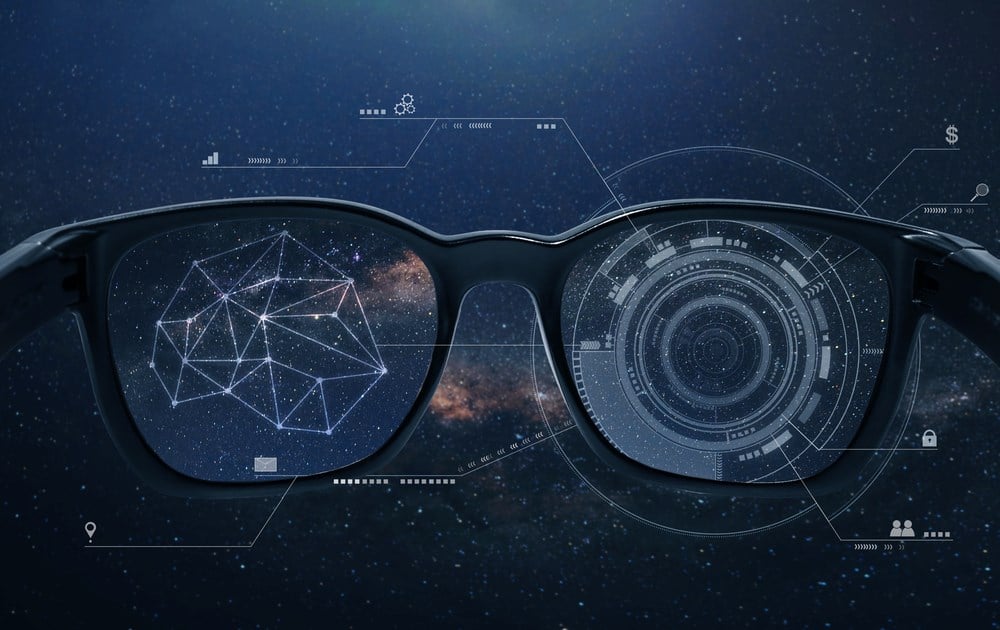 Innovative Eyewear Inc. (NASDAQ: LUCY) shares soared on announcing a Reebok line of "smart" eyewear products to launch in 2024. The company is careful with its wording to refrain from calling its eyewear "smart glasses." They are Bluetooth-connected audio glasses with four open-air speakers enabling hands-free usage with a connection to mobile devices using their Vryb app, which is still in beta.
They planned to incorporate generative artificial intelligence (AI) Chat-GPT through its smart eyewear and filed for a patent in April 2023. It's worth noting to avoid getting too hyped up on the stock as Innovative Eyewear is a development stage company trying to gain a piece of the smart wearable device segment.
Smart Eyewear
Smart glasses imply they are a wearable computer with a tiny overlaid screen in the lenses enabling you to navigate applications, run tasks. and take pictures and record video. Alphabet Inc. (NASDAQ: GOOGL) owned Google attempted to launch smart glasses under Google Glass in 2013. The limited functions, battery life, privacy concerns, and $1,500 price tag caused them to shut down the beta in 2015.
However, this has inspired other companies to follow through with similar ideas, like Snap Inc. (NASDAQ: SNAP), which makes augmented reality glasses that users can snap pictures with and upload to Snapchat. Vuzix Co. (NASDAQ: VUZI) is a manufacturer and supplier of augmented reality (AR) smart glass wearable display technology. They sell enterprise augmented reality (AR) smart glasses enabling virtual collaboration to improve field service efficiency in industrial, manufacturing, military and healthcare industries.
Google has enterprise smart glasses which have fallen into the niche of industrial uses.
Smart Eyewear
Innovative doesn't make smart glasses with computer display lenses. The lenses are UV400 sunglass lenses designed to block out UV and blue rays and with an anti-reflective coating. The frames are "smart" as they enable Bluetooth connectivity with your mobile device.
The frames have four open speakers delivering immersive sound. The temples are touch-sensitive, enabling you to control the music and volume and access the voice assistant with simple taps. The company filed a patent for ChatGPT-enabled smart eyewear on April 12, 2023. Innovative claims will be the first smart eyewear company to provide patent-pending AI voice accessibility on its Bluetooth-enabled eyewear.
Hype or Hope?
Innovative is the developer and retailer of smart eyewear for Lucyd, Nautica and Eddie Bauer brands. On June 20, 2023, they announced a multi-year global licensing agreement with Authentic Brands Group, which represents Reebok. Innovative expects to launch its Reebok Smart Eyewear in 2024.
There is room for more brands since Authentic Brands Group represents over 40 iconic brands in the Lifestyle, Entertainment and Media segments, including David Beckham, Sports Illustrated, Brooks Brothers, Nine West, Van Heusen and Luck Brand.
Innovative CEO Harrison Gross commented, "Our forthcoming Reebok smart eyewear collection, powered by Lucyd, will continue Reebok's legacy of bold and beautiful craftsmanship coupled with innovation and will align perfectly with today's active lifestyles.
We believe sports enthusiasts are seeking designer eyewear that both protects their vision and allows them to remain connected to their digital lives in an open-ear, hands-free format. There are four major segments of the eyewear market: ready-to-wear sunglasses, prescription eyeglasses, safety glasses and sports glasses, and our company aims to upgrade all of these categories with our cutting-edge smart features. "
Start-Up Fundamentals
Innovative is still a developmental company, and its revenues underscore that point. The company sells its glasses through its website and over 200 optical and sporting goods retailers, including Best Buy Co. (NYSE: BBY), DICK'S Sporting Goods Inc. (NYSE: DKS) and Amazon.com Inc. (NASDAQ: AMZN).
The most recent 10-Q report indicates the company had revenues of $144.9K for Q1 2023, ending in March 2023. It had a net loss of $1.43 million or ($0.19) per share. Remember that the company priced its 7.143 million units at $2.10, including one share of common stock and a warrant, into June 7, 2023,  according to its S-1. The exercise price of the warrants has yet to be determined. The company expects $13.69 million of net proceeds from the offering.
Innovative Eyewear financials are on MarketBeat.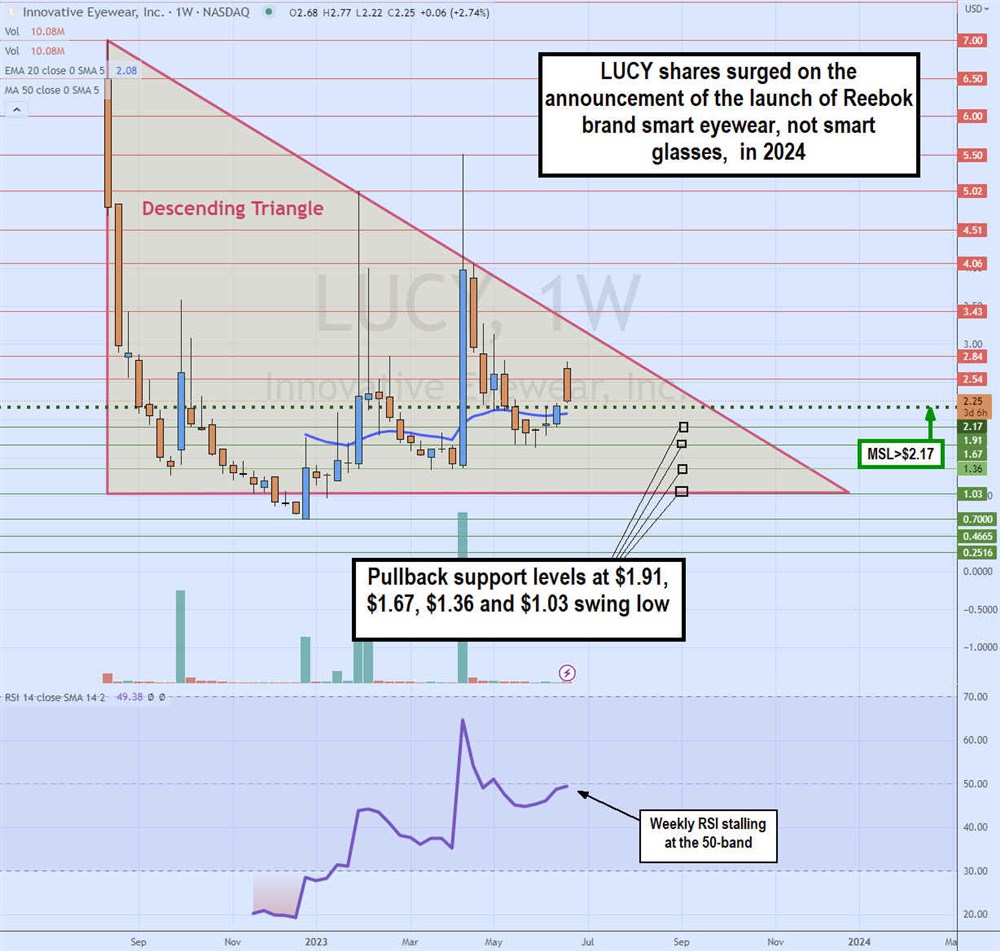 The definitive beginner's guide to reading stock charts can be found free on Marketbeat.
Weekly Descending Triangle
The weekly candlestick chart on LUCY illustrates a descending triangle that formed on its IPO peak at $7.00 in August 2022. Shares sold off to the flat-bottom low of $1.03 in November 2022.
However, shares bounced off the $0.70 lows to spike up the $5.02 in January 2023, forming a weekly descending triangle that has continued to hold the candles down under the trendline. Shares could hold the $1.36 higher low on pullbacks as they attempted to break out through the descending trendline again.
The weekly RSI coiled again to the 50-band. Pullback support levels are at $1.91, $1.67, $1.36 and $1.03 swing low.