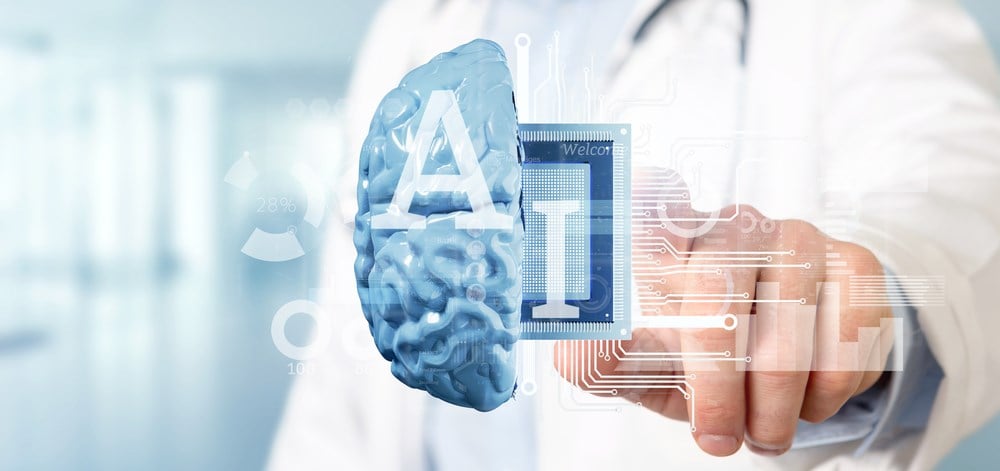 It's not unusual to see relatively new, unprofitable biotech stocks soaring on potential, particularly after promising clinical trial results.
But some stocks in the biotech category are rising for a reason that's more common with techs, such as chipmaker Nvidia Corp. (NASDAQ: NVDA) or Microsoft Corp. (NASDAQ: MSFT), which has made a significant investment in OpenAI, developer of ChatGPT.
But as investors are learning, AI is finding applications in various industrial applications, and in places where you may not think of it, such as monitoring oilfield equipment. 
Recursion Pharmaceuticals, Inc. (NASDAQ: RCRX) is an as-yet unprofitable biotech whose stock is on the rise because it's introducing AI applications into its workflows.
Schrodinger, Inc. (NASDAQ: SDGR), which provides software solutions for drug discovery and materials research, has been experiencing its own AI rally, while  Exscientia plc (NASDAQ: EXAI), a pharma company that uses AI to develop innovative treatments, has also seen its stock rise.
Many Uses Of AI In Pharma, Biotech Fields
Pharmaceutical and biotech companies use AI to accelerate drug discovery, identify targets, and repurpose drugs. AI can also help in personalized medicine, clinical trial optimization, and analytics for predicting responses to treatments, as well as adverse effects. 
Companies are also finding that AI can help enhance drug safety, analyze medical images, and optimize manufacturing processes, all of which can speed the process of drug development.
RadNet Inc. (NASDAQ: RDNT), which provided diagnostic imaging services, is another AI-related gainer, as it's deploying AI to improve patient care. 
Recursion Pharmaceuticals, a Utah company that went public in 2021, uses and machine learning to discover and develop new drugs. The company's machine learning tools are designed to extract insights from biological datasets that it says are "too complex for human interpretation." The aim is to minimize human bias and identify relationships that traditional drug discovery approaches may miss.
The Recursion Pharmaceuticals chart shows gains of 86.46% in the past month and 174.25% in the past three months. Shares gapped up 78.17% on July 12, after the company said it would be collaborating with AI poster child Nvidia. 
Integrating Machine Learning Into Drug Discovery
Shares of Schrodinger are up 16.18% in the past month and 70.77% on a three-month basis. The company, whose stock went public in 2020, integrates predictive physics-based methodologies with machine learning techniques to accelerate drug discovery.
The company itself appears to be somewhat skeptical of the AI-fueled price increase; on July 5, Schrodinger CEO Geoffrey Porges told an analyst that he was skeptical of the AI hype sending stocks higher. 
Nonetheless, the company expects a significant revenue increase this year from drug discovery, where the company has been deploying AI technologies. 
RadNet, a small company that runs diagnostic imaging centers in several states, has seen its shares rise by 65.13% year-to-date, as its AI subsidiary, DeepHealth, announced FDA clearance of its third AI mammography product late last year. 
Triple-Digit Earnings Growth Ahead?
Wall Street expects modest earnings growth this year, but sees the company growing earnings by 151% in 2024, to 54 cents per share. 
Another healthcare stock benefiting from the AI craze is U.K.-based Exscientia, which gapped up on July 12 after saying it was beginning clinical trials on therapies for advanced-stage solid tumors. 
Exscientia, which has a market capitalization of just $915 million and no earnings as of yet, is up 32.52% in the past month and up 49.41% in the past three months. 
Will The Uptrend Last?
So the big question for would-be investors is: Can these rallies be sustained? 
To answer that, think about what drives stock price increases.
Ultimately, investors care about profitability, and how that pushes stock prices higher. If AI can make these medical companies more efficient, which in turn, drives earnings, then investors will see a longer-term effect, but not necessarily the fast stock gains associated with this year's AI mania.
In other words, the bottom line is the bottom line, with revenue growth also playing a role. At some point, investors won't be bidding up stocks simply because the company has some kind of AI application; they'll care about profitability and shareholder return.
But for now, optimism and hope rule the roost, and even if these stocks, and others, can't live up to the promise, there could be more tradable rallies in the near term.