- September 11, 2023 —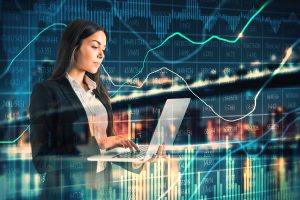 NASHVILLE, TN (2023) – Drawing on an aggregate of its work with clients across the banking spectrum, Integrity Solutions has identified the top issues banks are facing today, as well as key strategies financial institutions need to put in place to remain competitive and build trust in this ever-changing financial landscape.
"Incidents involving banks like SVB and First Republic Bank, coupled with the emergence of new banks and the rise of digital banking, have placed many regional and community banks in a precarious position," says Integrity Solutions CEO Mike Esterday. "As we've worked with a range of banking institutions navigating these challenges, one clear theme has emerged: The expectation for a personalized customer experience isn't going away. In fact, it's becoming one of the most important ways banks can strengthen trust and differentiate themselves."
Integrity Solutions surveyed team members working with large financial institutions, community and regional banks, and credit unions about the key issues their clients are grappling with, in addition to the broader market trends they're seeing. The insights they shared, combined with third-party research from organizations such as Accenture and McKinsey, point to a critical need for financial institutions to focus on building and maintaining trusted advisor relationships, as well as demonstrating integrity and relationship skills.
Among the top issues Integrity Solutions identified as key for adapting to the changing environment and strengthening trust and loyalty:
Prioritize creating a customer experience (CX) culture
Level up the omnichannel customer experience
Invest in the human aspects of CX
Increase products per household
Nurture small businesses
Attract, grow and retain talent
Grow the leadership pipeline
Create a sales culture
Esterday is also speaking at this week's Bank Board Training Forum in Nashville, TN where he will lead a breakout session titled Creating a Customer-Focused Sales Culture. The presentation will explore how shifting mindsets about sales and customer service and targeting the right skills build the kind of customer-centric culture today's banking customers demand from the banks they choose to do business with.
Visit the Integrity Solutions website to see a detailed discussion of these areas and how bank customer service training can pave the path to future success.
About Integrity Solutions (Headline):
Integrity Solutions has more than five decades of providing excellent sales training and coaching solutions in 130 countries and industries including healthcare, financial services, manufacturing, energy and utilities, agriculture and more. If you would like to learn more about Integrity Solutions training programs, please visit our website at https://www.integritysolutions.com
Source: https://thenewsfront.com/integrity-solutions-identifies-top-banking-issues-based-on-new-customer-expectations/
About Us: Integrity Solutions has spent decades creating and improving a unique learning process that translates knowledge and skills into real-world behaviors. Ron initially offered leadership courses.
Contact Info:
Name: Will Milano
Email: Send Email
Organization: Integrity Solutions
Address: 1801 West End Avenue Suite 530 Nashville TN 37203 United States
Phone: 1-800-646-8347
Website: https://www.integritysolutions.com/

Release ID: 89107195
Should you identify any discrepancies, concerns, or inaccuracies in the content provided in this press release or require assistance with a press release takedown, we strongly urge you to notify us promptly by contacting error@releasecontact.com. Our responsive team is committed to addressing your concerns within 8 hours by taking necessary actions to resolve identified issues diligently or guiding you through the necessary steps for removal. Our dedication lies in providing accurate and reliable information.