London, England -

Forest and Ray - Dentists, Orthodontists, Implant Surgeons, which is based in London, UK, has explained on their website what patients can expect during a wisdom tooth extraction. The dental practice offers private wisdom tooth removal in Holborn, Camden, Central London and usually performs this procedure for patients suffering from pain, swelling, and bite problems with their wisdom tooth. Wisdom tooth removal may also be suggested if there is insufficient space for the wisdom tooth to grow correctly, which causes it to get stuck within the jaw.

With regards to what a patient can expect during a surgical wisdom tooth removal, a spokesperson for Forest & Ray - Dentists, Orthodontists, Implant Surgeons, says, "Depending on the expected level of difficulty with the wisdom teeth removal and your personal comfort level, your dentist or oral surgeon will use anesthesia. At our clinic the team uses local anesthesia. We do not offer sedation which requires an intravenous (IV) line in your arm and it should be performed in a hospital. Your dentist or oral surgeon will administer local anesthesia through one or more injections near the site of each extraction. Before you receive the injection, your dentist or surgeon will likely apply a numbing substance to your gums. Even though you will be awake during the tooth extraction, you may feel some pressure and movement, but you shouldn't feel pain."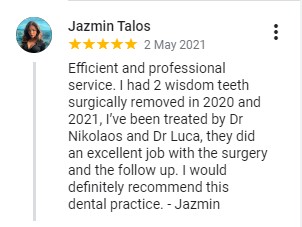 The wisdom tooth extraction will involve in general a number of steps. In the first step, an incision is made in the gum to expose the wisdom tooth and bone. The second step involves removing bone that is blocking access to the root of the tooth. The third step is to divide the tooth into sections if it is easier to remove the tooth piece by piece. The fourth step is the removal of the wisdom tooth. The fifth step is the cleaning of the place where the tooth was removed to get rid of any debris from the tooth or bone. The sixth step is to stitch the wound closed for better healing, but this may not always be needed. The seventh and final step is to place gauze over the extraction site to control bleeding and to help with the formation of a blood clot.
After the procedure, the patient will simply need a brief recovery time, most likely while in the dental chair, if a local anesthesia was administered. It should be noted that each individual patient will respond differently to anesthesia. Those who are awake after the procedure with local anesthesia may be able to drive themselves home and start recuperating without any side effects. They may even be able to continue with their regular activities and to return to work. Patients who are feeling drowsy after the anesthesia may want to have someone else drive them home. Most patients experience minimal to no discomfort after the procedure.
The dentist will provide some instructions with regards to bleeding, pain management, swelling and bruising, activities, beverages, food, cleaning the mouth, tobacco use, and the stitches. Patients are advised to contact the dentist or surgeon if they experience: swallowing or breathing issues, extreme bleeding, fever, no relief from prescription pain meds, increasing swelling after two or three days, unpleasant taste that is not eliminated by rinsing with saltwater, pus in the socket or seeping from it, persistent loss of feeling or numbness, and blood or pus in nasal secretions.
Launched in 2007, Forest & Ray is conveniently located in Central London and is only a few minutes walk away from the British Museum. They offer general dentistry, cosmetic dentistry, orthodontic services, and dental implants. They are committed to offering the best quality dental care at an affordable price. They are always focused on nurturing a good personal relationship with their patients and fostering that kind of relationship in an environment of care. Patients are assured that there are no hidden fees, and they carefully itemize the various alternatives so that patients can make the proper decision as to the services they truly want.
https://www.youtube.com/watch?v=RapVNjAsqy4
Those who would like to book a consultation or would want to learn more about wisdom tooth removal and other services offered can check out the Forest and Ray website or contact them through the telephone or by email.
###
For more information about Forest & Ray - Dentists, Orthodontists, Implant Surgeons, contact the company here:

Forest & Ray - Dentists, Orthodontists, Implant Surgeons
02081246138
info@forestray.dentist
8F Gilbert Place, London WC1A 2JD