Schuckman Realty has facilitated the lease of two new Zwanger-Pesiri Radiology Locations in Queens, NY. Both locations to open in 2018.
Queens, NY (PRUnderground) June 7th, 2018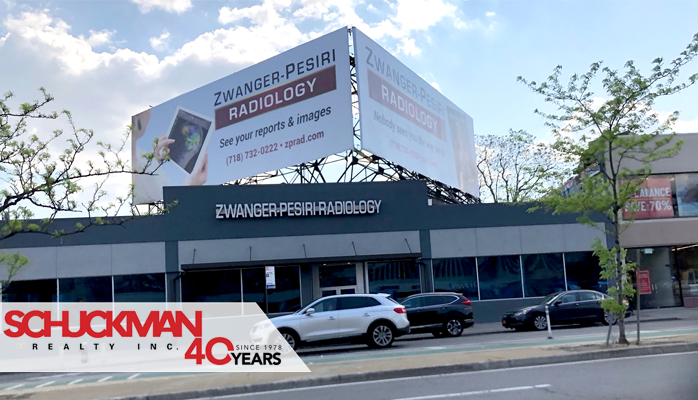 Schuckman Realty has facilitated the lease of two new Zwanger-Pesiri Radiology Locations in Queens, NY. Both locations to open in 2018.
Ari Malul of Schuckman Realty represented both sides, which involved significant infrastructure renovation to support the weight of MRI Imaging machines. A +/-14,000 square foot lease was signed in 2017 for 102-34 Atlantic Avenue, Ozone Park, NY 11416 which is scheduled to open in Spring 2018. The new Ozone Park office offers a variety of services including Vida 3T MRI, PET/CT scans, Nuclear Medicine, Low-Dose CT scans, Ultrasound, X-ray, 3D Mammography and Bone Density (DEXA) scans.
A second site was also signed in 2017 for 8812 Queens Boulevard in Elmhurst, Queens for over 10,000 square feet with a 10,000 square foot basement that will also be used for imaging. The Elmhurst facility is expected to open in 2018 as well. The Elmhurst Zwanger-Pesiri location was chosen not only because of its proximity to retail and available parking but will also allow Zwanger-Pesiri to utilize an existing one-of-a-kind double-sided billboard to promote its services.
About Zwanger-Pesiri: Zwanger-Pesiri is the largest private radiology practice on Long Island with 26 locations in Nassau, Suffolk, Queens, and Brooklyn.  For over 65 years, Zwanger-Pesiri has been establishing the gold standard in radiology with an unmatched level of patient-centered care, research, education, and commitment to the community. Headed by Steven L. Mendelsohn, M.D. and Susan Zwanger-Mendelsohn, M.D., ZP has surpassed every hospital, every health system, every multi-specialty practice, and every outpatient radiology facility in virtually every facet of radiology.
About Schuckman Realty Inc.
Schuckman Realty of Lake Success, NY is a full service commercial real estate services firm serving New York City, Long Island, New Jersey and the surrounding tri-state area. Celebrating its 40th Anniversary Schuckman has a reputation as a leading retail broker and developer with special expertise in developments, redevelopments, and renovations in all Five Boroughs of New York City and Long Island. As a strategic planner of retail stores, shopping centers and boutique projects, Schuckman has been responsible for tens of millions of square feet of leasing and development and has been hired by numerous national retail chains to facilitate macro–market penetrations. We attribute our success to our intimate team's proficiency in market analysis and site planning, in addition to tireless dedication and extensive experience from both sides of the table.
Press Contact
Name: Jack Pierce

Phone: 5164968888

Email: jack@schuckmanrealty.com

Website: www.schuckmanrealty.com
Original Press Release.