How Can You Invest in Cuba?
June 13, 2018 at 06:00 AM EDT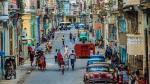 What is the impact of the further loosening of financial regulations on Cuba and how can individuals in the U.S. benefit? To learn more, check out: A Tale of Two Economies: Singapore and Cuba and ETFs to Short the Yen Like Mark Cuban.