What Does Stock Market Milestone for You?
August 29, 2018 at 06:55 AM EDT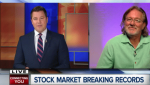 The S&P 500 has become the longest bull market recorded – what does this mean to investors moving forward? Related: SEC Postpones Decision on Direxion Bitcoin ETF to September For more investment solutions, please visit the Portfolio Construction Channel.