Abstract digital artist Bill Waggoner showcases his online gallery of dynamic and edgy print-on-demand art prints.
Des Moines, Iowa (PRUnderground) January 15th, 2019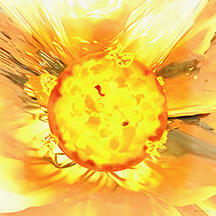 You've seen some home improvement shows as they tear apart the walls, floors and ceilings. Then build an amazing interior and as they redecorate the room. Certain art is used to spruce up the place. If you are looking for that art, digital artist Bill Waggoner has those wall pieces that blends and pop in the home and office.
To complete the room, artist Bill's palette of sizes of 12″ x 18″ up to 40″ x 30″ of unique styles can bring the room all together. With a congruous tone or a wild streak that clashes, interior decorators love the simplicity of his online art gallery when ordering. Print-On-Demand prints that are done from a well known lab, can give everyone multi choices of resonating art. http://www.artistbill.com/
One unique 30″x30″ piece that sets out a splash and pulls of orange, yellow, mid blacks and red tones is "Abstract Burst". The inspiration of the sun blooms with fire and the chaotic back drops drips with a melting explosion. Or you want color pop, in that case 40″x30″ print of "Abstract RR 17" thrives in harmonious hues of quirky blocks that adds depth to your walls.
About ARTISTBILL
He is a digital artist that is currently living in the Midwest, and has been doing digital art for over the past ten years. His online art gallery is for everyone who enjoys art. His services offers print-on-demand art prints of various sizes as well of UV coatings and backboards.
Press Contact
Name: Bill Waggoner

Phone: 641-849-7983

Email: artistbill1@gmail.com

Website: https://www.artistbill.com/
Original Press Release.