Developer of the world's purest, NSF-certified protein and performance products welcomes New Orleans Pelicans guard and member of the NBA All-Defensive First Team.
Jackson Hole, WY (PRUnderground) January 31st, 2019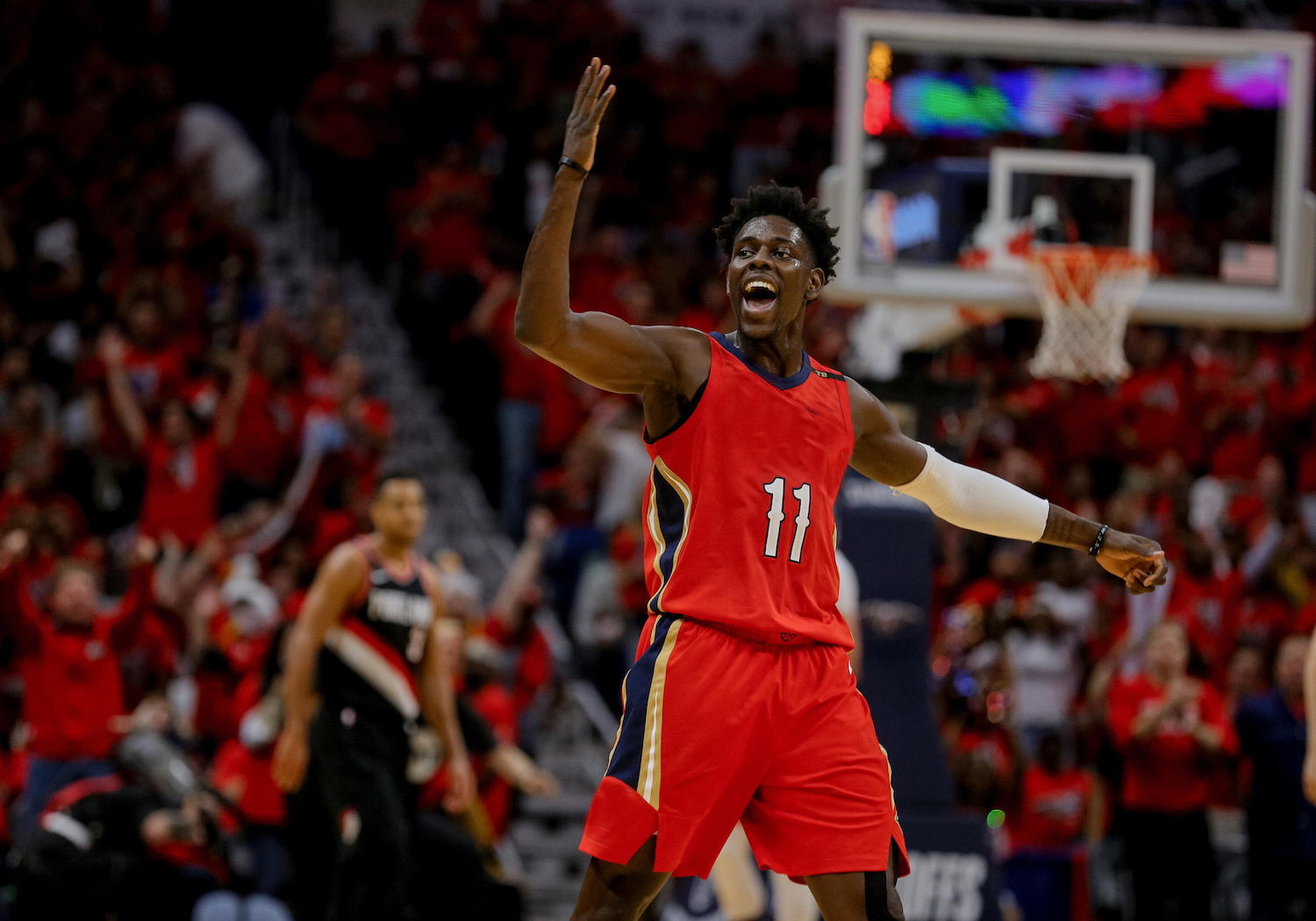 Momentous, a premium sports nutrition company, is proud to announce the addition of Jrue Holiday to its roster of athlete ambassadors. He joins a group of like-minded elite athletes, including Jimmy Chin and Alex Honnold, who all prioritize clean nutrition to fuel their world-class performances and achieve full recovery.
"During the summer, I worked out at my house and right after I'd drink a shake," Jrue said. "Momentous made me feel good, but the real difference maker was the flavor. There are a lot of products out there, but the taste of Momentous ArcFire Veracruz Vanilla was better than the rest. Even when I mixed it with strawberries and mango or other fruit, it still tasted good to me. After practice and games I always have a Momentous shake now – it's a crucial part of my cool-down routine that helps me wake up the next morning feeling ready to go out and give my best again."
Holiday played for UCLA for one season before being selected by the Philadelphia 76ers as the 17th pick of the 2009 NBA draft. He played four seasons for the 76ers, and was named an Eastern Conference NBA All-Star in 2013. Later that year, Holiday was traded to the New Orleans Pelicans, where he quickly became a fan favorite. After re-signing with the Pelicans in July 2017, Holiday had one of his best seasons to date, averaging 19 points and six assists a game and being one of only five players in the entire league named to the NBA All-Defensive First Team. Following this honor, ESPN and Sports Illustrated both named Holiday as one of the 30 best players in the NBA. He's currently having his finest statistical season ever, averaging 20.8 points, a team-leading 8.1 assists, and 4.7 rebounds per game. Holiday's younger brother Aaron plays for the Indiana Pacers and his older brother Justin is a member of the Memphis Grizzlies.
"We've been considering partners in the NBA for over a year now, but when the chance came to work with Jrue, it was a no-brainer," said Momentous founder Matt Wan. "Every other athlete we spoke to was introduced with a stat line, but when it came to Jrue, the first words his agent used to describe him were 'a pro's pro,' and after getting to know him, I completely agree."  
In addition to being the proud parent of a daughter, Jrue Tyler, and husband of two-time Olympic gold medal winning soccer player Lauren Holiday (née Cheney), he is an active member of the New Orleans community. After tornadoes struck New Orleans in February 2017, Holiday pledged to donate $1,000 for every point he scored against the San Antonio Spurs to relief efforts. His stellar offensive performance not only led to a win on the court for the Pelicans, but also a victory for the people of New Orleans as Holiday fulfilled his promise and gave $31,000. He was also featured prominently in the NBA's Lean In gender equality campaign. Such efforts earned Holiday the NBA Cares Community Assist Award in March 2017, and a nomination for the annual honor. He continues to devote time and money to various local charities, including several that focus on New Orleans youth.
"It's an honor to be blessed enough to be able to give to others," Holiday said. "Lauren and I just try to do as much as our busy schedule allows. Lots of kids dream of becoming a professional athlete, and it feels good to give them hope that it's possible, no matter where you come from or what your background is. Giving your time and helping out when people need it the most shows that you care about them."
Momentous is uniquely equipped to satisfy the needs of discerning athletes. Its three products — AbsoluteZero, ArcFire, and RedShift — are tailored to meet the recovery and performance needs of athletes, with the highest quality, best-sourced whey protein on the market. Later this year, Momentous will expand its offerings to include other kinds of premium sports nutrition products that are just as pure and efficacious as its protein powders.
"When I first came into the NBA I didn't care about what I ate because my body would let me get away with anything," Holiday said. "But now I've been in the league for almost 10 years, I can't do that anymore. Some games I play 40-plus minutes and have to go out and do it again the following night. Improving my nutrition has been a game changer for me and Momentous is a big part of that. Instead of being sluggish in the morning, I get up with lots of energy and can bounce back strong for a workout, practice, and the next game."
About Momentous
Momentous was founded in Jackson Hole, Wyoming with the goal to provide premium performance nutrition products. The team leverages a one-of-a-kind network in professional sports to create products with performance experts from the NFL, NBA, NHL, and MLB, starting with a line of NSF-Certified protein powders released in 2018. These products are now purchased by more than 40 elite teams including the Philadelphia Eagles, New York Yankees, Boston Celtics, and Alabama Crimson Tide.
Press Contact
Name: Sara Hendershot

Phone: 860-803-5634

Email: pr@livemomentous.com

Website: https://www.livemomentous.com/
Original Press Release.