Empowering speaker Tosin Abrahams is expanding her positive influence even further with the announcement her new Online TV Channel is about to drop backed by an English tour "Behind The Scenes with T Abrahams".
(PRUnderground) May 1st, 2019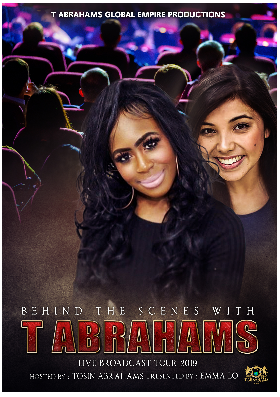 With so much of the media today letting off negative vibration it's not a surprise that the ever-more successful International Speaker who focuses on empowerment Tosin Abrahams would see her empire grow. In the latest exciting news, Tosin announced she is set to debut a new Online TV show covering all aspects of her and follower's interests, answering this common call from fans. To make things even more interesting, live audiences will also have a chance to take part in the movement as she begins a live tour in support of the new channel, stopping at a number of English theaters titled "Behind The Scenes with T Abrahams". The enthusiasm surrounding this new aspect of her work is explosive.
"Expect to see surprising public figures, celebrities of all kinds, and entrepreneurs take center stage on my Online TV show and help empower our audience by telling us their backstory and describing their present heart-to-heart," commented the passionate emerging media-dominating star. "It's all about showing what's possible even if it seems like there are too many obstacles in the way. Our limits are most often self-created. What we believe we can achieve."
Beyond the exclusive guest interviews, the new T Abrahams show will be highlighted by its team of well-experienced panelists, high-quality artist live performances, and presentations from some of the guests to better illustrate their message in a more engaging way, when appropriate. Viewers will have the chance to win fun giveaways and diverse special prizes.
Of course, her international engagements as a Speaker, will still continue and her very popular "T Abrahams Global Empire" online platform will also receive her full-attention as it helps change more lives for the better everyday.
For more information be sure to visit http://www.tabrahamsempire.global and stay part of the conversation on Facebook and Instagram.
About Tosin Abrahams
Tosin Abrahams is the founder of T Abrahams Global Empire. T Abrahams Global Empire is a global media platform which enables individuals and Business Owners to grow. Stay updated for exciting news yet to come during the next upcoming months… T Abrahams Broadcasting & Media Network launch news can also be found on their official website.
Press Contact
Name: T Abraham

Phone: 0845 299 3973

Email: tosin@tosinabrahams.global

Website: http://www.tabrahamsempire.global
Original Press Release.