Florida can be extremely hot. This makes finding an air conditioning and repair company that can respond to calls quickly extremely valuable. All Time Air Conditioning is taking that to new levels in the extended West Palm Beach area, making it to calls in 90-minutes or less.
(PRUnderground) May 24th, 2019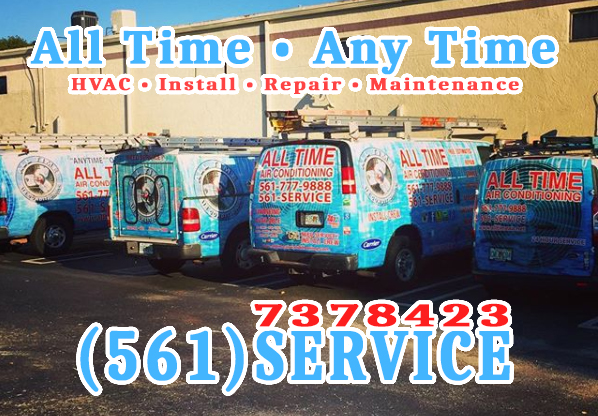 Florida is well known for both its beauty and being a place where many choose to retire counterbalanced with it being, at times, so hot and murky, as to be almost impossible to live without a quality air conditioning that is operating properly. All Time Air Conditioning offer air conditioning repair and installation services to Boca Raton, Boynton Beach, West Palm Beach, and surrounding areas. To show their dedication in delivering quick and premium quality service the company guarantees they will be on-site to do repairs or installations inside their service area within 90 minutes who give them a call at 561-777-9888. They recently celebrated the success that this policy has brought the company.
"We are proud to be the extended Boca Raton area premier air conditioning company," commented the owner of All Time Air Conditioning. "We have accomplished through quick service done to the highest standards, something we pride ourselves on."
All Time Air Conditioning is completely family owned and operated, which gives a partial explanation for their devotion to being the best of the best in the area. They operate seven days a week and even offer 24-hour service as an emergency option for any issues that may occur at night so a person or family is not left suffering in the heat all evening night and into the next day. In addition to air condition repair and sales, they also provide HVAC work of all kinds.
All Time Air Conditioning is completely licensed, insured, and bonded by the state of Florida, giving that extra sense of security to clients in knowing the people doing the work in their home are all recognized by the state.
All Time Air Conditioning is more than happy to help clients work out a financing plan that meets their needs if at all possible. In most cases it is something which has also won All Time Air Conditioning a very positive reputation with their clients old and new alike.
The positive feedback for All Time Air Conditioning continues to pour in every day, helping the company to continue to grow organically at a steady, organic space.
David Diaz, recently said in a five-star review on Google, "Fast, friendly and fair price. Thanks for keeping things cool."
The owner of All Time Air Conditioning replied, with enthusiasm, "Hey David, thanks for the review, being cool keeping cool, feeling cool. We always strive to provide quick and efficient solutions while being easy on the wallet. If you ever need us, you know where we are. Thanks again for the 5-star review!"
Find All Time Air Conditionings headquarters located at 2940 NW Commerce Park Dr #12, Boynton Beach, FL 33426.
For more information be sure to visit https://alltimeairconditioning.com.
About All Time Air Conditioning
Press Contact
Name: Ryan Friedman

Phone: 561-777-9888

Website: https://alltimeairconditioning.com
Original Press Release.