A large number of people suffer from extreme difficulties being able to digest gluten comfortably. LIVING JIN have a new probiotic and prebiotic supplement HAPPYGUT on the way that can provide a solution.
(PRUnderground) October 4th, 2019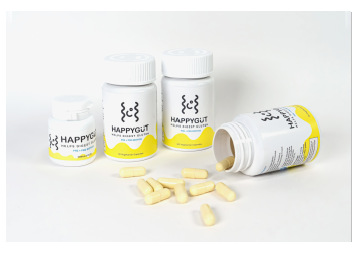 Experts agree, that people in the west suffer from the bad combination of varying degrees of gluten intolerance being widespread, along with having a diet free from some of the foods that can be gluten easier to digest. The good news is rising food-tech startup LIVING JIN, well known for introducing vegan agar agar gelatin powder to the market, has seen this problem and are doing their best to help. The innovative company recently announced the launch of a crowdfunding campaign on Indiegogo to bring to market "HAPPYGUT", an exciting new supplement developed to help user's more easily digest gluten, through using probiotics from traditional Korean food sources (the first of its kind!), like living Microbiota, giving it an extended duration over enzyme-focused options. HAPPYGUT combines probiotic and prebiotic qualities, while also delivering the benefits of fermented foods, like Kimchi which are rare on the western menu. The end result if often much happier and more content stomachs.
"HAPPYGUT can have very dramatic positive effects that change the way a person thinks of eating gluten containing foods," commented a spokesperson from LIVING JIN. "This can be a huge lifestyle boost for the many who like gluten but gluten doesn't like them. We are proud to be the first company to incorporate probiotics from living bacteria, that comes from our native Korea's traditional foods."
According to the company, the all-natural HAPPYGUT stands apart from enzymes used in supplements to deal with gluten by lasting close to two times longer in duration. This is through utilizing a dual-coating technology that helps it survive in the intestine spreading its ability to reduce gluten's negative impact. This powerful difference, coming from its Korean food and method-derived sources, has beta-testers calling HAPPYGUT the "best probiotic" they have ever tried.
A happier and more content stomach may be just a daily serving of HAPPYGUT away.
HAPPYGUT launches on October 22nd. Pre-orders of HAPPYGUT through the Indiegogo campaign can up to 50% from those who order soon! It's very unlikely that this type of low price will be available on HAPPYGUT again anytime soon, if at all.
For more information be sure to visit bit.ly/2nbS9EF.
Disclaimer: The statements made regarding these products have not been evaluated by the Food and Drug Administration. These products are not intended to diagnose, treat, cure or prevent any disease. All information presented here is not meant as a substitute for or alternative to information from healthcare practitioners. Please consult your healthcare professional about potential interactions or other possible complications before using any product. The news site hosting this press release is not associated with Living Jin or HAPPYGUT. It is merely publishing a press release announcement submitted by a company, without any stated or implied endorsement of the product or service.
About LIVING JIN
LIVING JIN is a food tech startup that aims to be the World's number one K-food platform. We are dedicated to plan and deliver high-quality food products made with Korean food ingredients and advanced food manufacturing technologies from Korea globally.
Press Contact
Name: Stella Hwang

Phone: +82 10 3800 5552

Email: stella@livingjin.com

Website: bit.ly/2nbS9EF
Original Press Release.