Climbing Icons Alex Honnold and Tommy Caldwell Race Up the Nose of El Cap in a Record-Breaking Attempt - Emerging Superstar Nina Williams Storms Elite Level Boulders - And Incoming Climbers Collide with Conservative Locals in Rural Utah - World Premiere Set for October 17 - 18 in Boulder, CO
(PRUnderground) October 7th, 2019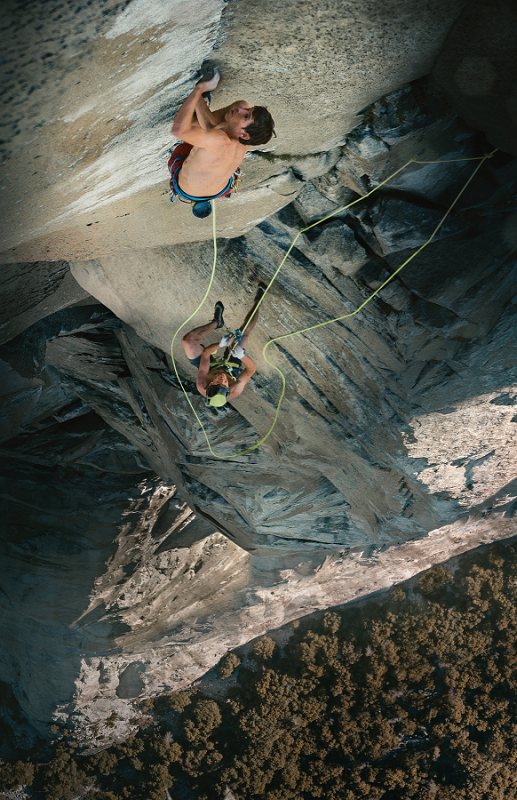 Today, Sender Films and Big UP Productions announced the return of the REEL ROCK Film Tour, the world's "must-attend" festival and networking event that's specially produced for thrill-seeking enthusiasts and rock climbers everywhere. The featured film in this year's line-up documents the teaming up of Alex Honnold, from the Oscar award-winning Free Solo, and Tommy Caldwell, from last year's acclaimed The Dawn Wall, in The Nose Speed Record, a new documentary capturing their record-breaking race up El Capitan.
Now in its 14th year, the REEL ROCK Film Tour continues to bring the climbing community inspiring stories of perseverance, hardship and accomplishment. This season will be no different, as REEL ROCK 14 will feature three new, larger-than-life, world premiere films at what's become the climbing community's spotlight event of the year.
To keep up with growing demand, the REEL ROCK Film Tour this year will visit 500+ locations in nearly 50 countries. The REEL ROCK Film Tour brings the best climbing and adventure films of the year to live audiences throughout the world.  REEL ROCK shows are high energy, community events that go beyond mere film screenings to include prize giveaways, athlete and filmmaker appearances, non-profit fundraising, and a festival atmosphere.
REEL ROCK 14, presented by The North Face, includes three action-packed short documentaries:
The Nose Speed Record (60 minutes)
For decades, an elite handful of climbers have competed for the coveted speed record on the 3,000-foot Nose of El Capitan, risking big falls to shave mere seconds off the fastest time. When a record set by superstar Alex Honnold is broken by little-known climbers Brad Gobright and Jim Reynolds, Honnold drafts fellow climbing legend Tommy Caldwell to establish a record that will stand the test of time. Honnold pushes for perfection while Caldwell, a family man, wrestles with the risk amid a series of accidents on the wall that lay bare the consequences of any mistake.
The High Road (20 minutes)
While the world's best boulderers push standards close to the ground, Nina Williams' sights are set higher. She is among the only women who climb elite-level problems that are 30, 40, even 50 feet tall — with no rope. In this profile of an emerging star athlete, Nina Williams flexes her guns and tests her nerves well into the no-fall zone.
United States of Joe's (20 minutes)
In rural Utah, a valley of world-class bouldering is nestled among a conservative community of Mormons, cowboys and coal miners. When a ragged band of punk rock climbers shows up, the two cultures inevitably clash. After years of antagonism, a group of climbers work with locals to build a more harmonious future. But in this divided era, is that even possible?
Founded in 2005 by groundbreaking filmmakers Josh Lowell and Peter Mortimer, The REEL ROCK Film Tour has grown into the premiere global platform for award-winning climbing films that weave bold action, humor, heart, and soul into larger-than-life human stories for a wide audience, from the core climber to the armchair mountaineer.
"With REEL ROCK, the sport's most accomplished climbers can share a candid portrait of their lives, both on and off the rock, with their peers," said Peter Mortimer, co-founder of The REEL ROCK Film Tour. "The films are documentaries, so things don't always go as planned — but it's always entertaining, humorous, and in the end, revealing about the sport and our nature as athletes."
REEL ROCK 14 kicks off with a premiere event in Boulder, CO on October 17. Additional REEL ROCK Fest events will be held in San Francisco on October 24 – 27, and New York City on November 1-2. Other screenings will occur in cities nationwide, including Seattle, Salt Lake City, Denver, Los Angeles, Chicago, Asheville and Washington, D.C. and will be followed up with local events in over 500 locations worldwide.
To find a screening event near you, visit: https://reelrocktour.com/pages/tour.
To learn more about Fest events, visit: https://reelrocktour.com/pages/reelrock-14-fest.
REEL ROCK 14 Tour is made possible by presenting sponsor, The North Face, in association with Black Diamond Equipment, Yeti, and TruBlue Auto Belays; coordinating level support comes from Fat Tire Ale, The American Alpine Club, and The Access Fund.
About REEL ROCK
For more information, please contact us at press@reelrocktour.com or visit www.reelrocktour.com.
Press Contact
Name: Lynn Munroe

Phone: 845-548-1211

Email: lynn@maracaibomedia.com
Original Press Release.