Colorado's top lumber supplier reports significant year-to-date financial gains as people invest in construction and home improvements.
(PRUnderground) May 12th, 2020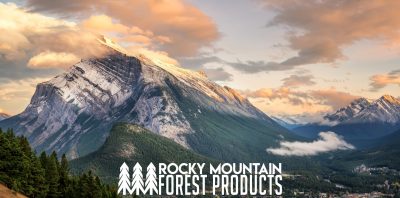 As more people are cooped up at home due to COVID-19 stay-at-home orders, they are turning their sites to home improvement projects, and that's good news for Colorado's largest lumberyard. In spite of COVID's disruption of many businesses, Rocky Mountain Forest Products has reported a 29% year-to-date increase in profits.
For 40 years, RMFP has been providing quality lumber as well as fencing and decking products to customers in the greater-Denver area. They rose to prominence in Colorado's construction industry with their "wholesale-to-public" model, which allowed them to remove the middleman, source materials directly from mills, and pass the savings on to customers.
Taylor Poole, Director of Marketing for RMFP, said that renovations and other homeowner-driven projects are fueling their business. "Homeowners who are stuck at home are turning their sights to all of those projects they have pushed off," said Poole. "They're finally finding time to build that cedar privacy fence or Trex composite deck that they've been dreaming of."
Poole also said that with the Colorado governor deeming construction an essential industry to keep the economy flowing, demand for his company's products is still high for new-build construction projects as well. He said that RMFP has been able to keep materials in stock without interruption, which has attracted even more customers. "Because our company hasn't had any shutdowns due to COVID-19, we have been able to serve clients who can't get products from their usual suppliers at this time," said Poole.
Rocky Mountain Forest Products has seen tough times in the past, nearly folding during the 2008 recession. But Poole said that turned out to be a pivotal learning experience that is serving the company well now.
"After those lean times in 2008, we invested more in our branding strategy so we could become a household name in the Colorado construction industry," said Poole. "For the past three years, in particular, we have been building our digital presence so that people know who to turn to when they need top quality building materials at affordable prices."
Rocky Mountain Forest Products is an advocate for greater cooperation in the industry and hosts The Mill podcast to provide business tips to construction and trades-related companies—including mom and pop lumber suppliers who might be viewed as competition.
"A big part of our reputation is that we're a team player," said Poole. "There's enough divisiveness in the industry, and we're trying to bridge those gaps. We do what we can to help other businesses because we know it strengthens the industry as a whole."
Poole said that his company hasn't taken any chances when it comes to customer or employee safety. In compliance with regulations in Wheat Ridge, Colorado, where the company is headquartered, all employees and customers are required to wear face masks on the premises. They are also limiting the number of customers inside the building to four people at a time.
Customers are encouraged to call ahead to schedule their visits at the company's three stores (two in Wheat Ridge, one in Fountain) and to pay in advance using touch-free options. RMFP also offers delivery options to allow customers to get products without having to leave their home or office.
To learn more about Rocky Mountain Forest Products or their COVID-19 safety precautions, visit www.rmfp.com or call (303) 647-9185.
About Rocky Mountain Forest Products
Rocky Mountain Forest Products is the largest supplier of lumber in the state of Colorado. They import lumber directly from the mills and sell it wholesale to retail customers. For more than 40 years, RMFP has been helping builders and homeowners complete their projects under budget.
Press Contact
Name: Taylor Poole

Phone: press@seonational.com

Email: 1-855-736-6285

Website: http://www.rmfp.com
Original Press Release.