The winners for the 26th Annual Communicator Awards have officially been announced by the Academy of Interactive and Visual Arts and among them is Michael Snell, founder of The MJS Groupe who will receive the 'Award of Distinction' under the 'Integrated Campaign' category. Snell is presented the award for his work on their project titled "Quincy Jones- Honoring the Icon."
(PRUnderground) May 20th, 2020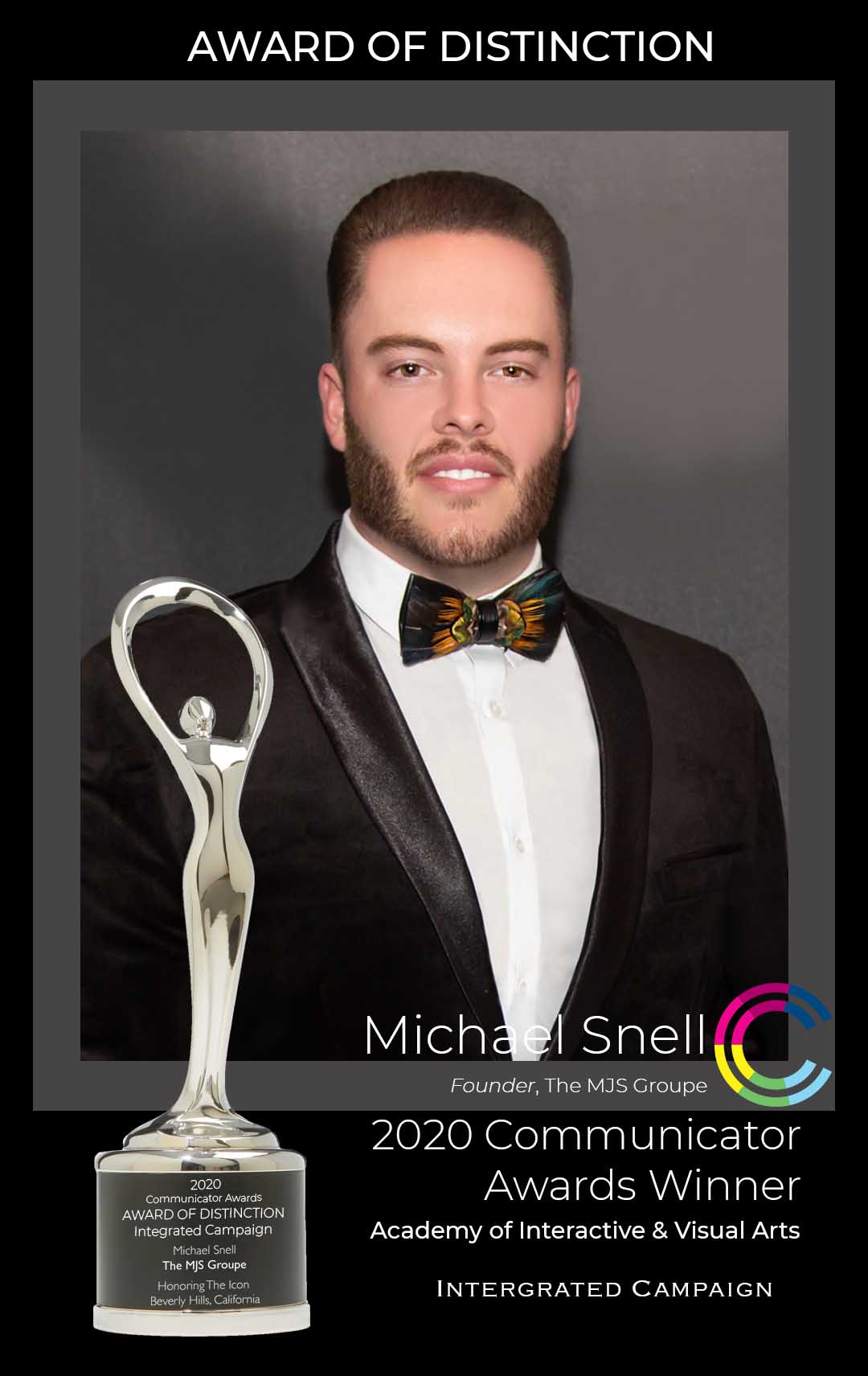 Snell commented that: "On behalf of the MJS Groupe creative team, I'd like to personally thank the Academy for the recognition of our work that was put forth into honoring such a great and inspiring legend. We were honored and humbled to be part of this project and now forever grateful to have our work memorialized."
Snell's work took place in October of 2019 in Beverly Hills, California at the iconic Wolfgang Puck owned restaurant Spago. The MJS Groupe partnered with Forbes, Rolls-Royce Beverly Hills and Hennessy to celebrate the work and life of the musical legend. Arriving in a Rolls-Royce Phantom, Quincy entered the dinner to standing ovation where he was honored among family, friends, and colleagues for his more than 60 years in the entertainment industry.
The evening also brought in local VIPs including Chef and Owner of Spago, Wolfgang Puck, Quincy Brown, son of Sean 'Diddy' Combs, Rashida Jones, Actress, Tom Davis, CMO of Forbes, Michael Snell, Founder of The MJS Groupe and Jennifer Stroup, Brand Director of Rolls-Royce Beverly Hills. Quincy was also honored by Moët Hennessy for his lifetime commitment to solve racial injustice and was presented with engraved decanter of Paradis Imperial Cognac. Guests enjoyed hand-crafted spirits by Moët Hennessy and a specially curated dinner menu down by Wolfgang Puck himself.
Click here to view the entire event, and click here to view the event video.
About Michael Snell: 
Michael Snell started the MJS Groupe as a full-service firm that works with inspired companies, global influencers, and power-brands specifically catering to high-net-worth (HNW) and ultra-high-net-worth (UHNW) consumers. He designs the core strategic engagements to deliver results that seamlessly integrate bespoke, one-of-a-kind tailored experiences from concept strategy, to branding and platform design of every company within the portfolio. He fosters the engagement of each designed campaign, always driving back valuable consumer actions. The firm, which is located in New York City, works both nationally and internationally as their clients span from luxury hospitality, retail, spirits, automotive and technology. As a native Long-Islander, born and raised in Manhasset, NY a large part of his client base also can be found in the tristate area and specifically The Hamptons, Greenwich, CT and Manhattan. He feels that whether you're just starting out or you're evolving your brand, he can help to curate every impression you make.
About The Communicator Awards: 
The Communicator Awards is the leading international awards program honoring creative excellence for marketing and communications professionals. Founded by passionate communications professionals over two decades ago, The Communicator Awards is an annual competition honoring the best digital, mobile, audio, video, and social content the industry has to offer. The Communicator Awards is widely recognized as one of the largest awards of its kind in the world.
The Communicator Awards are judged and curated by the Academy of Interactive and Visual Arts (AIVA). The AIVA is an assembly of leading professionals from various disciplines of the visual arts dedicated to embracing progress and the evolving nature of traditional and interactive media. Current AIVA membership represents a "Who's Who" of acclaimed media, advertising, and marketing firms including: GE Digital, Spotify, Condè Nast, Disney, Republica, Tinder, Majestyk, Fast Company, Upstatement, and many others. See aiva.org for more information and communicatorawards.com to view the full winners list.
About The MJS Groupe
The MJS Groupe is a full-service firm founded by Michael J Snell based out of New York City. A power house team that works with only globally-influential brands catering to brand clients who serve consumers in the upper one percent of the buying power. The firm designs engagements that integrate trackable KPIs with provable ROI based initiatives that serve as the backing for each bespoke, one-of-a-kind tailored experience. With a team of over 20, high-caliber individuals and a network of the strongest affinity partners, each undergoing meticulous scrutiny to be considered 'a partner' of The MJS Groupe, we are proud to select premium-level talent in this highly specialized area of luxury marketing while proving our clients with the best in service.
Press Contact
Name: Michael Snell

Phone: +13476957764

Email: press@mjsgroupe.com

Website: http://www.mjsgroupe.com
Original Press Release.