Falling asleep in 10 minutes, no waking up throughout the night, getting up refreshed and relieved, that's not an elusive dream if you get the right beddings.
(PRUnderground) June 5th, 2020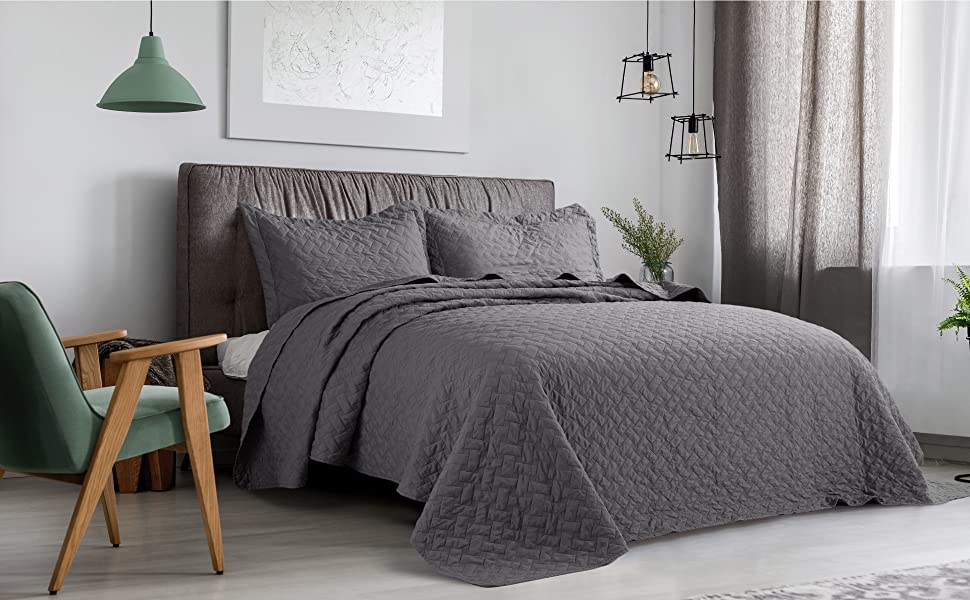 As more and more research studies continue to show that poor sleep contributes to depression, heart disease, and obesity, people are paying more attention to their sleep quality than they have before. Sleeping gadgets are flooding the market, guided bedtime meditations are becoming more popular and sleep trackers and apps are used more frequently to track sleep quality.
Yet, the coming summer heat is still making it difficult for people to get a deep, restful sleep. Apps and sleep trackers won't really solve waking up throughout the night because you're feeling overheated. But there is one thing you can change: your bedding. By simply switching out your flat pillow for a contoured one or using a sweat resistant pillowcase, your night will be cooler and your sleep quality will improve.
By combining premium textiles with ergonomic designs, Bedsure features functional bedding products that practically improve users' sleep quality, all at affordable prices. The following functional bedding products are recommended for sleeping better and waking up more refreshed for the summer season.
Shredded Memory Foam Pillow
The best and healthiest version of sleep you can get is when your spine is kept in natural alignment. When sleeping on your back, the height of the pillow should be lower than it is when you're sleeping sideways, and it should be even lower if you're a stomach sleeper.
That's why an adjustable pillow like Bedsure shredded memory foam pillow is necessary. The pillow is filled with evenly shredded memory foam cubes that can be removed or added to easily adjust the height of the pillow so that you can find a level of comfort that's right for you. Unlike traditional memory foam pillows that tend to feel dense and retain heat, Bedsure shredded memory foam lets more air flow through the pillow. Its 30% bamboo fiber to 70% polyester ratio in the pillowcase lets you enjoy an enveloping, deeper sleep without sweating.
100% Bamboo Sheet Set
Fabric quality and type is crucial to bedding products, and bamboo is perfect for those who prefer an extra soft and silky texture to fall asleep.
Bedsure 100% Bamboo Sheet is able to regulate your body temperature and wick away moisture, keeping you dry and cool all night long during the summer season.
Woven together with 100% microfiber cover and filling, the Bedsure quilt set combines softness and lightweight textures so that sleepers who have night sweats or sleep more sporadically during warmer seasons can stay cool all night long.
All of our summer-ready products are available on Amazon and at affordable prices so that making the switch is an easy decision. Sometimes the smallest changes to your bedding can make the biggest improvement when it comes to your sleep quality.  Falling asleep in 10 minutes, no waking up throughout the night, getting up refreshed and relieved, that's not an elusive dream; it's an everyday value that Bedsure delivers to everyone, directly to your home.
About Bedsure
Cozy up to snug, warm home linens from Bedsure. From the moment you wake up to the second you fall asleep, we make sure you and your family sleep and enjoy life comfortably. That's why we're always dreaming up new products to help you sleep well, wake up refreshed, and get that extra bit of cozy comfort throughout your day. And because cost shouldn't stress you out, we bring everyday value to everything from household basics to high-tech fabrics and sleep solutions. Our products are all priced for your budget, made for the way you live, and delivered directly to you with a smile.
Press Contact
Name: Mina Luo

Phone: +86 18817350907

Email: mina.luo@shinebed.com
Original Press Release.