Beloved musician and music teacher remembered for his dedication to mentoring up and coming musicians and producers.
(PRUnderground) June 29th, 2020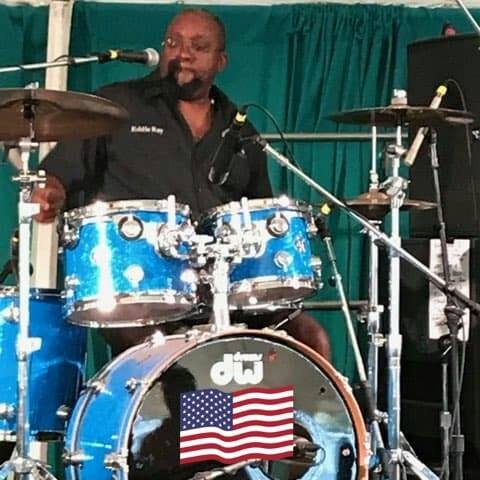 Drummer, Bandleader, and record producer, Eddie Ray Johnson (born, Billie J Atkins II), died on June 25, 2020 after a brief hospitalization for diabetes related complications. He was 58 years old. Johnson was born in Cambridge Massachusetts and his family relocated to Wareham when he was a child. His interest in music took root at the age of 8 when he saw the Jackson 5 on the Flip Wilson Show, and took an immediate interest in the drums. Opting to continue with music over sports in school, he also began playing the tuba and Sousaphone in High School, earning a music scholarship to Dean College. While at Dean, at the age of 19, he was hired by a touring agency as a sub drummer for touring bands, eventually playing with such legendary artists as Wilson Pickett, and Rufufs Thomas. He spent over 30 years as a touring drummer before returning to Wareham where he worked as a drum instructor as well as various carpentry and technology jobs. During this time he formed the regional soul band, West Side Soul, touring throughout the Northeast Region, as well as the Big Bad Wolf Blues Band.
His career as a drummer spanned more than forty-one years culminating with co-founding the soul-funk band, The Groovalottos. Billie co-produced The Groovalottos' first single, "Do You Mind(IfWeDanceWitYoDates)?" which spent 41 weeks in the top ten of the Indie Blues/Americana Charts; followed by co-producing the band's six time Grammy-nominated album, "Ask Yo Mama" (Liberation Multimedia, 2017). The same album was also a 2019 nominee for Best Pop Recording for the 2019 Native American Music Awards.
He was a gifted music teacher, sharing his love of music and giving drumsticks to any kids who showed an interest in drumming. He received the NAACP Unsung Hero Award in 2019 in recognition of his dedication to the arts and youth in the community through his work as President of Song Keepers, Ltd, a nonprofit arts and education organization. Countless numbers of musicians reflect the legacy of his artistry as his former students and mentees, including all members of The Groovalottos.  The band was an annual headlining feature at the Boston Jazz Fest and Song Keepers, LTD was an annual co-sponsor. Festival organizer, James Braxton said of Johnson that he was, "a great guy and excellent musician."
Band co-founder and keyboardist, Mwalim said of his bandmate, "We spent thousands and thousands of hours with each other on the road, in the studio, at gigs, promoting gigs, rehearsing, watching movies, talking, planning, dreaming, laughing, arguing… he was my brother through and through. If you were in a bad mood, it wouldn't last long if you were in Billie's presence. His laughter and stories made every gig and tour a wonderful experience for his band mates and audiences. The sound of his laughter will live on in the memories of all who knew him. You could literally see the unbridled joy on his face whenever he played. His joy was infectious; and, heaven is blessed with a back-beat like it's never experienced before."
He and his bandmates had just completed building the new Polyphonic Studios in Bourne, which is set to complete two albums by the band that had been put on hold due to the Corona Virus shutdown. Johnson, who's skills included carpentry, will leave a lasting memory on the facility, having modified the rooms that became the control rooms and live recording rooms.
He is survived by his brother, Ira Atkins of Wareham; long-time partner, Katherine Simons, three children: Jasmine, Dion, and Billie J III; and his bandmates/brothers, Richard Johnson, Mwalim (MJ Peters), ZYG 808 (MJ Peters II), and Charles Vermette.
Due to the shutdowns caused by the COVID-19 crisis, Johnson's income as a teacher and musician was sharply impacted, as well as his savings. Assistance for the funeral fund can be made at https://gf.me/u/yb6ugg
About Polyphonic Studios LLC
Polyphonic Studios is a recording studio and content creation facility, specializing in recording, mixing, mastering and editing music, audiobooks, podcasts, and sound design projects. We also offer artist development services.
Press Contact
Name: Morgan J Peters

Phone: 5085666269

Email: mgmulti@gmail.com

Website: http://polyphonicstudios.com
Original Press Release.