With COVID-19 driving mill-level shortages, Colorado's largest lumber yard stays stocked thanks to early-intervention strategies to keep materials flowing.
(PRUnderground) July 3rd, 2020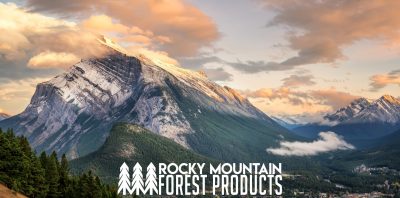 It was a perfect storm: even as forestry and lumber mills were considered "non-essential" and ordered to shut down in the face of the COVID-19 outbreak, construction demands continued. Fortunately, Rocky Mountain Forest Products saw the shortage coming, and their proactive strategies have enabled them to continue to serve customers even as their competitors' inventories are quickly diminishing.
Rocky Mountain Forest Products (RMFP) opened their doors 46 years ago, shaking up the Colorado lumber industry with their "wholesale-to-public" business model. Customers loved the savings that came from RMFP's strategy of bypassing the middleman and dealing directly with mills, and they soon became the state's largest lumber provider. To date, RMFP has provided top-quality fencing, decking and siding products to over 2,500 Colorado contractors working with countless homeowners.
RMFP has weathered many ups and downs, including the economic recession of the early 1980s that nearly caused them to shut their doors as demand for new homes dried up. From that experience, they learned to keep an eye on the future, which has helped them navigate the challenges imposed by the novel coronavirus.
Even as non-essential businesses were ordered to shut down and stay-at-home orders were imposed, RMFP continued to see a surging demand for wood for decks and fencing in the Denver and Colorado Springs areas as people working from home (or laid off from jobs) tackled home improvement projects. But RMFP's leaders also knew that lumber mills were on the "non-essential" list and many were slowing or halting production.
RMFP began anticipating their customers' needs and working overtime to bolster their supply chain. "We have been thinking outside the box and aggressively buying materials to make sure we have enough for contractors and homeowners," said Taylor Poole, Director of Marketing for RMFP.
In contrast, Poole said that many other suppliers, including big box stores, are out of stock and unable to keep up with the demand.
"It's a tough time for the construction industry as a whole, and we don't know how long it will take the mills to catch up," said Poole. "We're grateful that we were able to get a jump on this and look forward to continuing to meet our customers' needs the best that we can," said Poole.
To learn about Rocky Mountain Forest Products or their inventory at their three locations (two in the greater Denver area and one in Colorado Springs), visit www.rmfp.com or call (303) 647-9185.
About Rocky Mountain Forest Products
Rocky Mountain Forest Products is the largest supplier of lumber in the state of Colorado. They import lumber directly from the mills and sell it wholesale to retail customers. For more than 40 years, RMFP has been helping builders and homeowners complete their projects under budget.
Press Contact
Name: Taylor Poole

Phone: press@seonational.com

Email: 1-855-736-6285

Website: http://www.rmfp.com
Original Press Release.