Will a Flood of New Startups Continue to Boost Tech?
August 26, 2020 at 11:17 AM EDT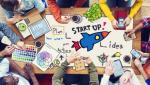 The Covid-19 pandemic threw a wrench into a number of initial public offering (IPO) plans, but a flood of new startups are ready to enter the market. As such, this could continue to make the technology sector the darling of the markets. "Everybody and their mother filed an S-1 registration...