Mighty Mage's debut album "Ancient Scrolls II" is an exciting archive of his music leading up to today. Mixing rock, pop, and acoustic sounds along with careful lyric writing and a powerful voice, fans of good music are sure to enjoy the debut.
(PRUnderground) September 3rd, 2020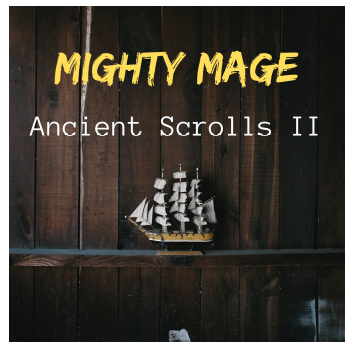 San Diego, California is home base for a passionate music artists, songwriter and producer on the rise Khalid "Mighty Mage" Hussain. Blending quite diverse musical influences, with a forward, compelling vision, redoubtable skills, and a rare voice that touches the heart, it is quite clear that the sky is the limit for the artist, who at 38 is delivering mature sound developed over a lifetime. Music lovers new to his work plus his fans are both sure to rejoice, from the latest Mighty Mage news. Mighty Mage recently announced his latest album "Ancient Scrolls II" is set to be released on September 9th, 2020. The album is an archive of his work, that does an amazing job of showing his progress, his multifaceted ability, passion, and a powerful indication of his potential as he continues on his path as an artist.
"The release of "Ancient Scrolls II" completes the collection of music that I made during my early years of being an artist," commented Mighty Mage. "I am proud of all the songs on this album and am glad to release it to the world."
The new album has ten songs, all written, performed, and produced by Mighty Mage. Some highlights of "Ancient Scrolls II" include Oh My (Acoustic), Time Of My Life, On the Moon, The Epic, and My Love, among many others. All recorded in his own home studio.
I'm Khalid, also known as the music artist Mighty Mage.
Mighty Mage got his start singing at the age of 15, growing to eventually pick up the guitar to help express his musical vision, before taking the next logical step to also strive to master production.
He also connects with fans through his official blog where he dives into writing about his music, life, and other things of interest.
Might Mage's plans include continuing to write amazing music, perform for fans, and also to lend his production skills to other music artists who'd like to sound their best.
The early response to the new album has been passionate.
Michelle S., from Boston, recently said in a five-star review, "I'm so happy I have had the chance to hear Mighty Mage's new album "Ancient Scrolls II" before its official release. It's absolutely amazing. His voice is incredible and the song-writing is also first-class. I especially loved the acoustic work and hope that he explores this direction even further in the future. Totally recommended."
For more information be sure to visit https://www.mightymage.com.
About Mighty Mage
Khalid "Mighty Mage" Hussain is a professional, dedicated artist that treats his art as a calling rather than a hobby. Expect to hear more from Mighty Mage, as he hones his craft and develops into an international star.
Press Contact
Name: Khalid Hussain

Phone: (858) 945-7423

Email: Contact Us

Website: https://www.mightymage.com
Original Press Release.