The company is collaborating with The Garfield Health Center to serve low-income patients & families in California.
(PRUnderground) September 5th, 2020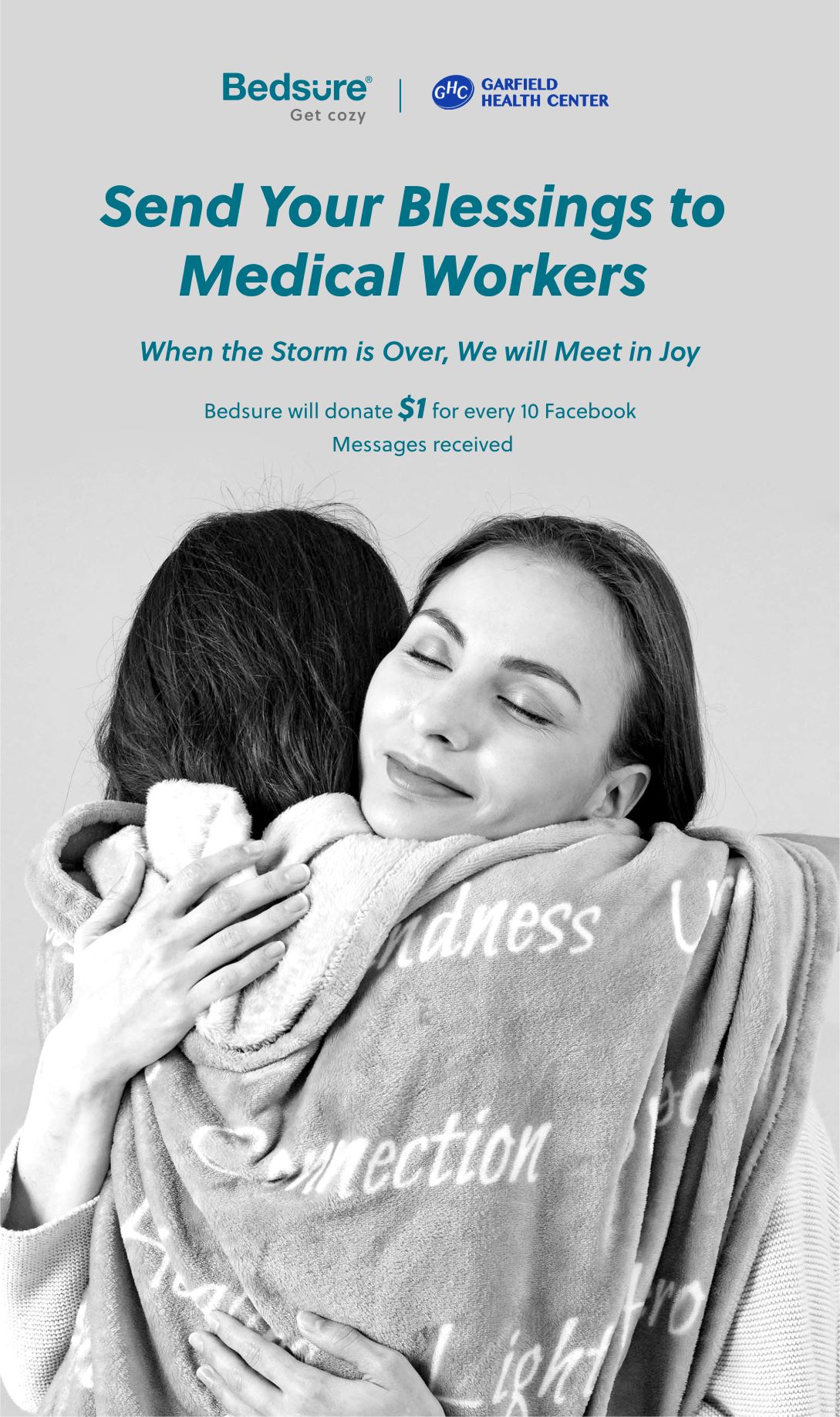 Home Bedding & Textile Company Bedsure has teamed up with The Garfield Health Center, a non-profit, federally qualified health organization that provides comprehensive medical, dental, and mental healthcare services to low-income, underserved patients and families. As Covid-19 continues to affect so many, Bedsure's donation campaign has been set up to help families in the long term, and they plan to expand on this campaign by teaming up with other organizations into the future.
About the Campaign
As in the silent battle against Covid-19, medical workers shed their blood, sweat, and tears at the frontline, Bedsure's campaign will invite participants to send messages of love, encouragement, and gratitude to medical workers. For every 10 messages sent, Bedsure will donate $1 to The Garfield Health Center. All the messages will be collected by Bedsure's Facebook fan page, and the most heartfelt ones will be posted on the page.
The campaign and collaboration with The Garfield Health Center was originally inspired by the popular Bedsure healing thoughts blanket because in addition to being soft and cozy, the blanket is printed with words of encouragement meant to bring comfort and encouraging blessings to all who use it. This campaign is ongoing with no set end date in mind as the company wants to help as many families and patients as they possibly can during such a difficult time.
About The Garfield Health Center
The Garfield Health Center was founded in 2000 in California with a mission to provide free medical, dental and mental healthcare services to low-income and underserved patients and families. Their services aim to provide regular care to those who can't afford it, and to act as a safe haven for those battling health issues who may not know how or when their medical needs will be served.
Over the last decade, GHC has proudly served an average of 10,000 patients per year, and have acted as a beacon of support for the community of the San Gabriel Valley, where they are located. The staff members at GHC are also able to provide multicultural and multilingual services and care to their patients, making the health center a welcoming and safe community for anyone who walks through their doors. The Garfield Health Center continues to expand their services and reach so that they can continue providing free care for as many people as possible.
Bedsure Campaigns for the Future
For Bedsure, bringing people comfort and support through high quality home linens and bedding solutions has been a part of their mission since the beginning. Their hope with this first campaign is to continue providing support to their customers and beyond through the donations made to the GHC. This campaign is the first of many in their mission to provide support to underserved and marginalized individuals and families across the globe. Going forward the company has plans to partner with numerous other non-profits who share their vision and desire to help those in need, wherever they may be.
About Bedsure
Cozy up to snug, warm home linens from Bedsure. From the moment you wake up to the second you fall asleep, we aim to make you and your family comfortable. That's why we're always dreaming up new products to help you sleep well, wake up refreshed, and have that extra bit of comfort throughout the day. And because cost shouldn't stress you out, we bring everyday value to everything from household basics to a range of high-tech fabrics and sleep solutions. Our products suit every budget and are made for the way you live, all delivered directly to you with a smile.
The post Bedsure Launches Charity Campaign to Aid Families In Need of Healthcare Services on International Charity Day, 2020 first appeared on PRUnderground.
Press Contact
Name: Mina Luo

Phone: +86 18817350907

Email: Contact Us
Original Press Release.