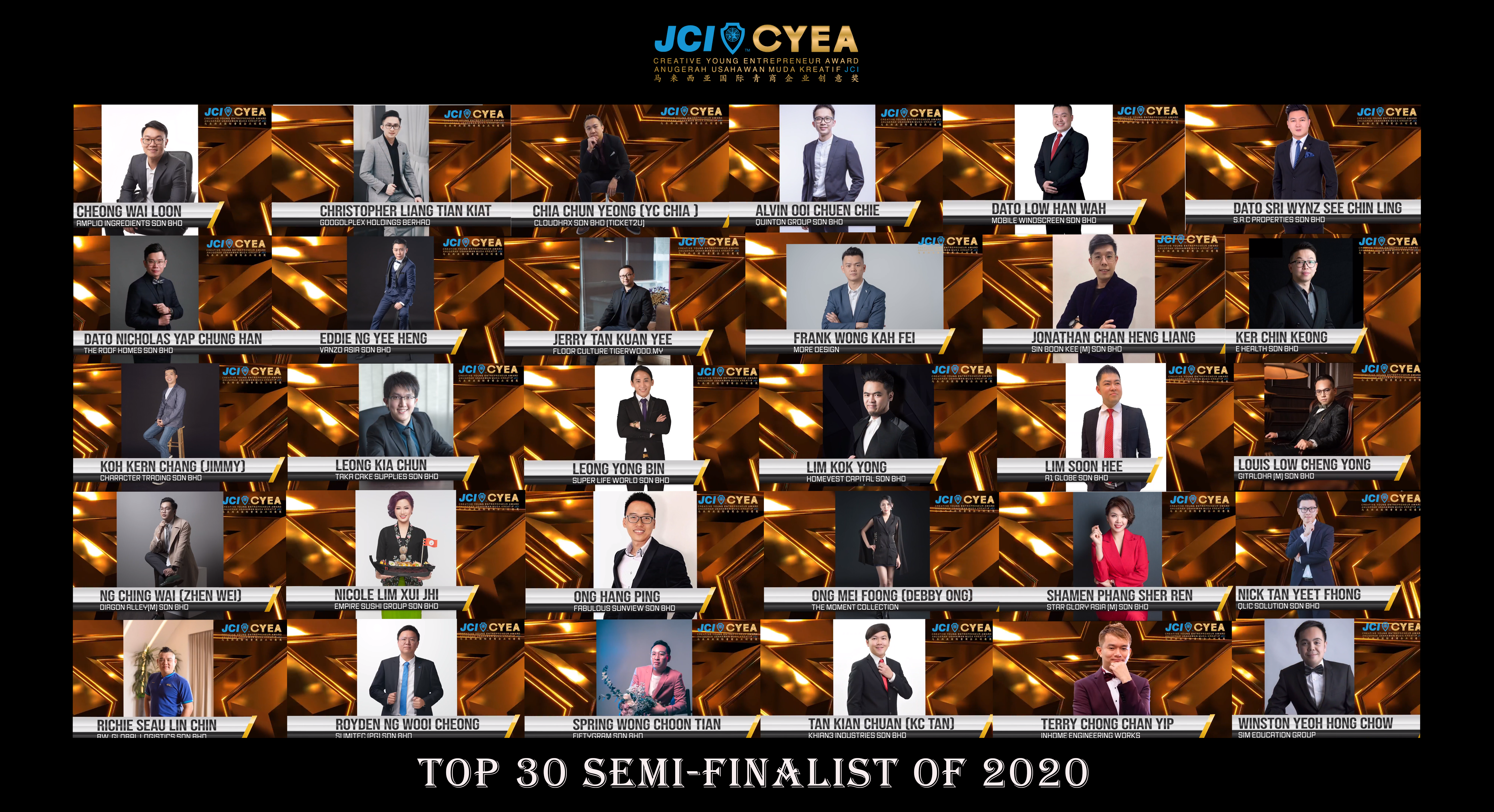 Penang - 18 Nov, 2020 - The announcement of the top 30 finalists for Malaysia Creative Young Entrepreneur Award (CYEA) was held on 31st October 2020. The programme is held virtually due to COVID-19 pandemic and in regard to the safety and health of all attendees. 
JCI Malaysia National President JCI Senator Ken Lee opening speech stated that "CYEA had a big impact on people especially young entrepreneurs and it is one of the most impressive and impactful events." He said that "CYEA is about creating creativity and innovation in the very mind of Malaysians even during the pandemic. Thank you to the young entrepreneur that participated and made a historic record in Malaysia."
This year's theme is "Creativity Beyond Limits''. More than 100 nomination forms were received from young entrepreneurs throughout Malaysia. 30 out of 96 submissions were carefully selected to take part in the finalist CYEA 2020, Mr.Alen Yeoh and the panel judges which are, Dato'Liew Bin, Mr.Mohd Khairil Anuar Bin Amir Hamzah and Mr. Tan Lay Seong took over a month to review the Top 30 nominees on their report and company profile. Mr. Alen said "2020 is a challenging year for everyone; any aspects of private and public life had to be moved online. Entrepreneurs are not an exception." They were chosen based on their outstanding ideas to implement creative measures or methods that resulted in positive outcomes in their business operations.
This is the first virtual event for CYEA and with the guidance and support from Honorary Advisor Dato Dr Calvin Khiu from OE, Executive Advisor Mr.KC Lim from Flex Software Consulting Sdn Bhd, Executive Advisor Mr.Damon Wong from Kar Fook Goldsmiths, Corporate Advisor Mr.Wilson Low from Wills Tech Solutions, CYEA manage to proceed with the virtual event with no hiccups.
The top 30 nominees of CYEA 2020 are (in no particular order):
Alvin Ooi Chuen Chie - Quinton Group Sdn Bhd

Cheong Wai Loon - Amplio Ingredients Sdn Bhd

Chia Chun Yeong - Cloudhax Sdn Bhd (Ticket2u)

Christopher Liang Tian Kiat - Googolplex Holdings Berhad

Dato Low Han Wah - Mobile Windscreen Sdn Bhd

Dato Nicholas Yap Chung Han - The Roof Homes Sdn Bhd

Dato Sri Wynz See Chin Ling - S.A.C Properties Sdn Bhd

Eddie Ng Yee Heng - Vanzo Asia Sdn Bhd

Frank Wong Kah Fei - More Design Sdn Bhd

Jerry Tan Kuan Yee - Floor Culture Tigerwood.My

Jonathan Chan Heng Liang - Sin Boon Kee (M) Sdn Bhd

Ker Chin Keong - E Health Sdn Bhd

Koh Kern Chang (Jimmy) - Character Trading Sdn Bhd

Leong Kia Chun - Taka Cake Supplies Sdn Bhd

Leong Yong Bin - Super Life World Sdn Bhd

Lim Kok Yong - Homevest Capital Sdn Bhd

Lim Soon Hee - A1 Globe Sdn Bhd

Louis Low Cheng Yong - Gitaloha (M) Sdn Bhd

Ng Ching Wai (Zhen Wei) - Diagon Alley(M) Sdn Bhd

Nick Tan Yeet Fhong - Qlic Solution Sdn Bhd

Nicole Lim Xui Jhi - Empire Sushi Group Sdn Bhd

Ong Hang Ping - Fabulous Sunview Sdn Bhd

Ong Mei Foong (Debby Ong) - The Moment Collection

Phang Sher Ren (Shamen Phang) - Star Glory Asia (M) Sdn Bhd

Richie Seau Lin Chin - Bw Global Logistics Sdn Bhd

Royden Ng Wooi Cheong - Sumitec (Pg) Sdn Bhd

Spring Wong Choon Tian - Fiftygram Sdn Bhd

Tan Kian Chuan (Kc Tan) - Khian3 Industries Sdn Bhd

Terry Chong Chan Yip - Inhome Engineering Works Sdn Bhd

Winston Yeoh Hong Chow - Sim Educare & Learning Sdn Bhd

For more info, please contact JCI CYEA Organizing Chairman Alen Yeoh at 011-1223 3990, or visit www.jcicyea.com.my, Facebook JCI CYEA Malaysia.
Media Contact
Company Name: JCI CYEA Malaysia
Contact Person: Alen Yeoh Chee Wei (Managing Director)
Email: Send Email
Country: Malaysia
Website: https://cyea.jcimalaysia.cc/