Will Address How MLB's Shameful Policy-Failures are Putting The Game's Youngest Fans – Our Children - Directly in Harm's Way
(PRUnderground) December 16th, 2020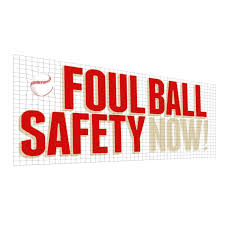 Baseball-fan safety-advocate Jordan Skopp, and several victims of foul ball injuries, will hold a press conference on Thursday, December 17h at 3pm ET to raise awareness about Major League Baseball (MLB)'s continued failure to extend safety netting at its Major and Minor League ballparks. The event follows a press conference last week where more than 30 sports journalists from major publications attended and asked Skopp questions about his new research and book on the topic. Skopp's findings revealed that children are at great risk for foul ball injuries with many of their injuries and deaths going unreported. This has prompted some stadium insiders to insist their families sit in "safe seats", protected from errant foul balls, whenever they attend a game.
Skopp will be joined by Erwin Goldbloom, the outspoken widower of Linda Goldbloom who was killed by a foul ball incident at Dodger Stadium in 2018, Dwayne Sowa, a New York Mets fan who suffered a life-threatening skull injury while attending a Phillies game in 2004, and an ESPN host who is also a baseball play-by-play commentator. The victims will talk about how these needless stadium tragedies impacted their lives, both emotionally and financially, while MLB continues to cower behind an archaic law that shields them from any liability.
"78 percent of fans agree that extending the safety netting is a good idea," claims Skopp. "But baseball commissioner Rob Manfred and his management team continue to make empty promises, unmoved by the fact that at least 39 children have been senselessly maimed and even killed by foul balls between 2008 and 2019 at Major and Minor League games. Could your child be next?"
Skopp, who is author of a new book on foul ball injuries and founder of the Foul Ball Safety Now website which hosts a public petition addressed to Rob Manfred, has been advocating that all professional ballparks extend their safety netting, so that fans will be protected from dangerous foul balls which can seriously maim or kill innocent spectators.
At Thursday's press conference, he hopes to continue to raise awareness about the issue with the press and family bloggers. Skopp's goal is that, with additional public pressure, MLB will make all the necessary netting improvements before opening day, 2021.
To attend the press conference:
Time:
Thursday – Dec 17, 2020 at 03:00 PM Eastern Time (US and Canada)
Join the press conference:
Meeting ID: 938 8211 0417
    +1 646 558 8656 US (New York)
+1 312 626 6799 US (Chicago)
+1 301 715 8592 US (Washington D.C)
+1 346 248 7799 US (Houston)
+1 669 900 9128 US (San Jose)
+1 253 215 8782 US (Tacoma)
Meeting ID: 938 8211 0417
Find your local number: https://zoom.us/u/abfZ6aWAOE
About Jordan Skopp
Jordan Skopp is a baseball fan, stadium safety advocate, and author of an upcoming book detailing foul ball injuries at professional parks and what can be done to ensure fan safety. Skopp is the founder of foulballsafetynow.com.
The post Fan Safety-Advocate Jordan Skopp and Foul Ball Injury Victims to Discuss Dangerous Baseball Stadium Conditions at December 17th Press Conference first appeared on PRUnderground.
Press Contact
Name: Lynn Munroe

Phone: 845-548-1211

Email: Contact Us

Website: https://www.foulballsafetynow.com/.
Original Press Release.