The MJS Groupe, leader in luxury brand marketing and press visibilities announced this week that the 2020 year was successful taking in five prestigious press and marketing related awards.
(PRUnderground) December 29th, 2020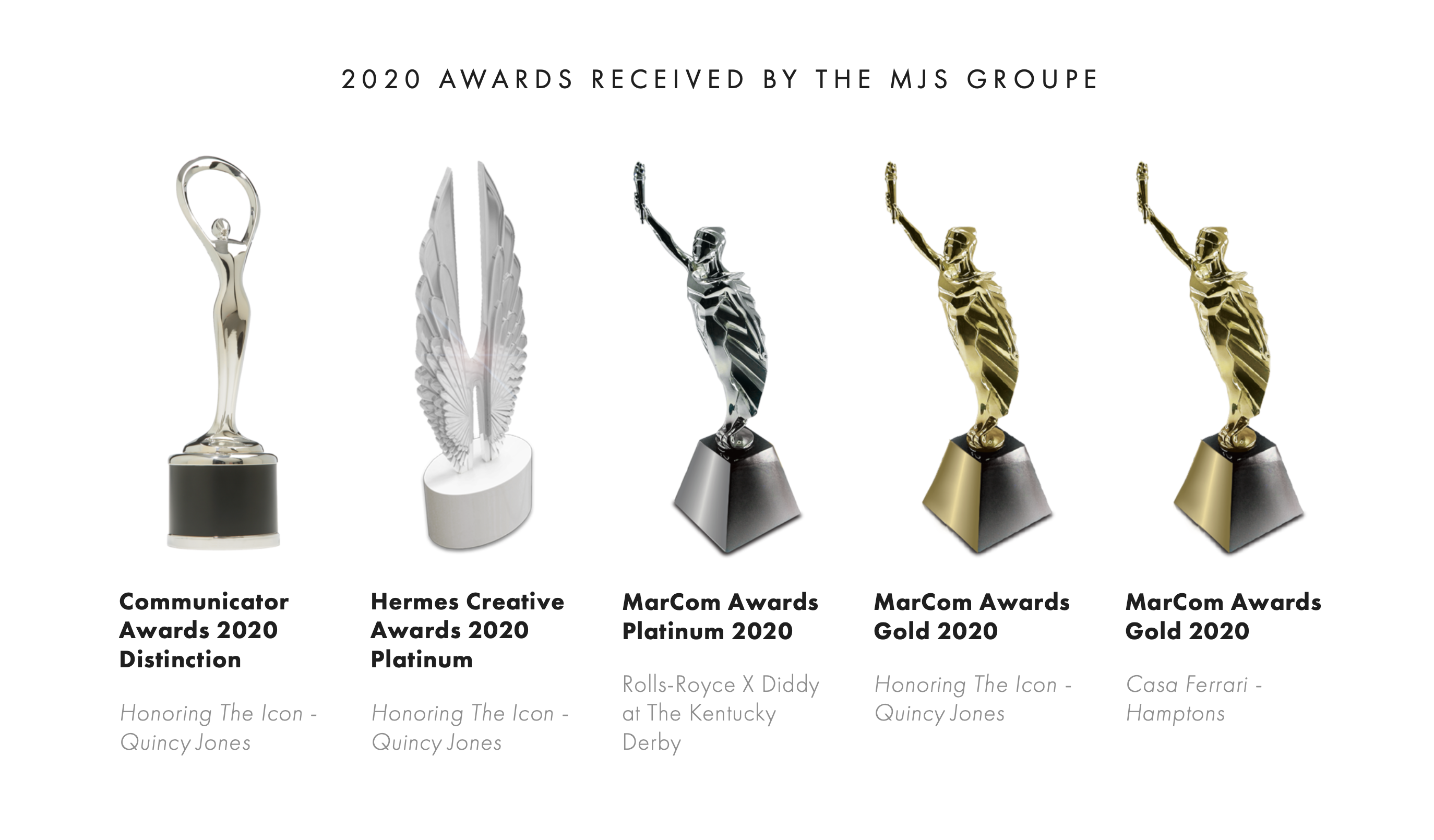 The MJS Groupe, a leader in luxury brand marketing and press visibilities announced this week that the 2020 year was successful for both brand-initiated marketing investments as well as many of the joint launched partnerships between their firm and several of their elite clients. 2020 didn't come without its fair share of challenges, however several of the campaigns produced by The MJS Groupe received highly awarded accolades, a testament to creativity and perseverance of their management team throughout a year that rewrote how most did business.
In the first of several awards presented to the MJS Groupe, three individual awards were dedicated for their work on the 'Honoring the Icon – Quincy Jones' living tribute. The achievements include the: Platinum Award – Hermes Creative Awards, Award of Distinction – Communicator Awards and the Gold Award – MarCom Awards.
The tribute itself, which took place pre-pandemic in Beverly Hills, California at the iconic Wolfgang Puck-owned restaurant Spago was directed by The MJS Groupe and had several curated and exclusive partnerships with Forbes, Rolls-Royce Beverly Hills and Hennessy to celebrate the work and life of the musical legend. Arriving in a Rolls-Royce Phantom, Quincy Jones entered the dinner to standing ovation where he was honored among family, friends, and colleagues for his more than 60 years in the entertainment industry.
In addition to the above, two additional awards were earned by The MJS Groupe team. The first being a Platinum Award – presented by MarCom Awards for their Rolls-Royce X Diddy at The Kentucky Derby campaign. Sean 'Diddy' Combs hosted a truly star-packed afterparty that celebrated Derby tradition the proper way. Held at the historic Louisville Palace Theatre, over 1000 guests came out for an evening that consisted of themed VIP rooms featuring craft cocktails and unique bites. The event finished with a private concert by Diddy and a meet and greet for select attendees.
The Gold Award – presented by the MarCom Awards, for the MJS Groupe's work on the Casa Ferrari – Hamptonscampaign that took place this past August was the latest to be received. With the a majority of the world's largest automobile functions coming to a pause, there was now the ability to hold a re-envisioned version of the Pebble Beach icon Casa Ferrari on the East Coast. Taking place in the prestigious Hamptons, Ferrari owners poured out to The Baker House 1650 where they were met by a curated selection of crafted cocktails and the absolute finest faire. The event showstopper was a dramatic reveal of the F8 Spider among the fine selection of partners that included Ferrari of Long Island, ProShine Hamptons, Jimmy Choo, Out East Rosé, Cohiba, Urbani Truffles, Aced Gallery, Simple Vodka, Pretty Rugged Gear, Southampton Social Club, Union Sushi Steak, Lucciola and Frette.
MJS Groupe founder, Michael Snell commented, "We are beyond grateful to our clients, partners and teams for making a seemingly difficult year so successful – not just internally, but for allowing us to amplify your brand and the brands we represent. We do this not only just as a passion, but for the staff these brands employ and the clients they service each day. We strive to perpetuate curated brand identities that lead to consumer demand, with the intent to bring a reaffirmed mindset of trusted purchasing in every marketplace. Thank you all for a great 2020 as we now look ahead toward a spectacular 2021."
About The MJS Groupe
The MJS Groupe is as a full-service firm works with inspired companies, global influencers, and power-brands specifically catering to high-net-worth (HNW) and ultra-high-net-worth (UHNW) consumers. They design their core strategic engagements to deliver results that seamlessly integrate bespoke, one-of-a-kind tailored experiences from concept strategy, to branding and platform design of every company within the portfolio. The firm fosters the engagement of each designed campaign, always driving back valuable consumer actions. Whether you're just starting out or you're evolving your brand, they can help to curate every impression you make.
The post The MJS Groupe Announces a Successfully Awarded 2020 first appeared on PRUnderground.
Press Contact
Name: Michael Snell

Phone: +13476957764

Email: Contact Us

Website: https://www.mjsgroupe.com
Original Press Release.