This Valentine's day, treat the loved ones in your life to some extra love (and gifts!). Bedsure is giving away free gifts as well as major discount codes as part of their Valentine's Day Giveaway!
(PRUnderground) February 4th, 2021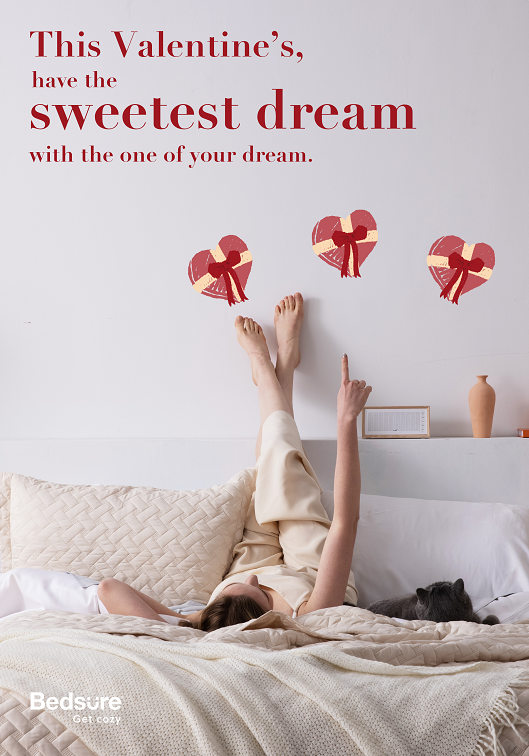 Whether you're based in the US or the EU, you'll get a chance to win some of Bedsure's V-day prizes. It's easy (and free) to enter, and the giveaway items and discounts have been thoughtfully curated to put a smile on both you and your loved ones' faces, and to make your home a happy, cozier one.
How to Enter
It's a luck of the draw play in Bedsure Valentine's Day giveaway. They'll be gifting free items as well as discount codes for up to 65% off on a wide variety of different products.
To enter, all you have to do is click the link: for US or for EU, and enter your email address and you'll be included in the draw. Be sure to enter before February 14th. All participants can only enter into the draw one time.
Let's Talk Prizes
They're offering a huge variety of Bedsure must-haves as part of the giveaway. Each has been selected to help make your Valentine's day comfy and cozy with your favorite someone.
If you're based in the US, you can look forward to potentially winning the following prizes:
Bedsure Silk Pillowcase and Eye Mask Set – The ultimate for a luxurious night's sleep, the silk pillowcase and eye mask set are incredibly soft and made of 100% pure silk mulberry. The silk pillowcase and eye mask set will also be offered at a 20% off discount!
Bedsure Waffle Weave Blanket – A favorite for cuddling up on the couch, the Bedsure Waffle Weave is soft and lightweight and ideal for snuggling up to watch a movie with a loved one. The grey hue is an easy, functional color that compliments any living room or bedroom decor. The waffle weave will be available as a free and 10% off as part of the giveaway… it just depends on what we draw!
Bedsure Velvet Cushion Cover – It may be Valentine's Day, but why not get a few free holiday-themed velvet cushion covers ahead of time for next year? Bedsure is giving away their favorite covers for free in the draw as well as for 65% off. It's a win-win!
If you're EU-based, these are some of the items you can look forward to in the Valentine's Day giveaway:
Satin Pillowcase set – Perfect for you and a special someone, the satin pillowcase set comes with two premium satin pillowcases that are naturally cooling and great for keeping hair and skin healthy and clean. The satin pillowcase set will be a free giveaway item!
Bedsure Memory Foam Mattress Topper – An easy to love favorite, what better way to spend Valentine's Day than reclined on the Memory Foam Mattress Topper? Its innovative 7-zone design offers major pressure point relief and total body relaxation. It molds to both you and your partner's distinctive shapes and provides an unparalleled sleeping experience. Take 10% off  the topper if your name is drawn!
About Bedsure
Cozy up to snug, warm home linens from Bedsure. From the moment you wake up to the second you fall asleep, we aim to make you and your family comfortable. That's why we're always dreaming up new products to help you sleep well, wake up refreshed, and have that extra bit of comfort throughout the day. And because cost shouldn't stress you out, we bring everyday value to everything from household basics to a range of high-tech fabrics and sleep solutions. Our products suit every budget and are made for the way you live, all delivered directly to you with a smile.
The post Bedsure Welcomes Valentine's Day With a Sweet Giveaway first appeared on PRUnderground.
Press Contact
Name: Mina Luo

Phone: +86 18817350907

Email: Contact Us
Original Press Release.