The SaintLeaf, a new CBD company that focuses on intimacy and relationships.
(PRUnderground) May 2nd, 2021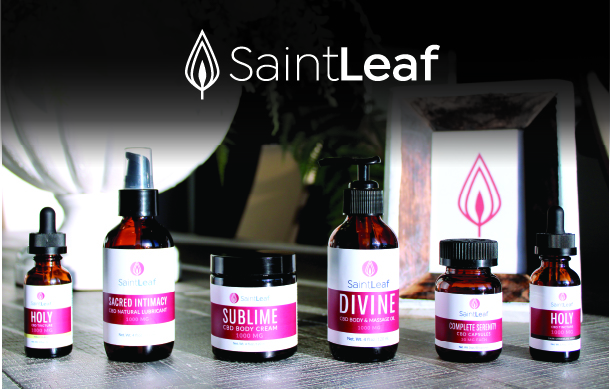 Before allowing oneself to intimately care for another being, one must nurture him or herself. The SaintLeaf, a USA-based new CBD company believes that fostering healthy relationships is as sacred and beautiful as preserving nature. Dedicated to become a reputable, reliable, and respected brand in the health and wellness industry, The SaintLeaf intends to be well-known as a brand that provides top-of-the line CBD essentials that enhance relationships and mostly especially, intimacy.
"Embrace your divine nature. We want people to know that CBD comes from nature and it's safe to use", says the team at The SaintLeaf.
Over the years, CBD has gained popularity as an alternative therapy for various conditions such as pain and anxiety. More so, it has also been used in addressing sleep disorders and improving intimacy among couples. Although CBD is still a subject of research, combining it with accepted ingredients such as essential oils and MCT (Medium-chain triglyceride) oil does the trick. For instance, mixing CBD with essential oils has been proven to provide a calming effect. With that, through the help of their products, The SaintLeaf specifically advocates for self-care and helping couples.
The SaintLeaf offers a variety of relaxing and pleasurable CBD products that are formulated exclusively with the help of in-house doctors, industry experts, and an experienced Research and Development team. Their products are free of GMOs (Genetically modified organisms) and are even lab tested to ensure optimal quality. Its wide array of satisfying goods contains the highest amount of CBD compared to other leading brands. Contrary to the common misconceptions about CBD, The SaintLeaf assures its consumers that their products are derived from nature and nontoxic.
Through a unique CBD product line, The SaintLeaf is dedicated to empower both men and women to feel comfortable exploring and understanding their intimate needs in order to have improved and healthy relationships. The main goal being to maintain the health of their consumers alongside enhancing their overall wellbeing by improving happiness, relaxation, and quality of life. Most importantly, The SaintLeaf believes that improving one's intimate relationships help people enjoy a more fulfilled life.
There has always been some sort of a stigma towards intimacy and the challenges that couples face. With that, more than catering to customers' needs through their products, The SaintLeaf is geared towards creating an inclusive community where both their employees and customers can share anecdotes on safe and fun ways to lead a balanced life—where intimacy is not considered taboo but a vital element in one's essence.
More information can be found at www.TheSaintLeaf.com.
About SaintLeaf
The SaintLeaf is a USA-based company that offers various relaxing and pleasurable CBD products aimed at enhancing self-care and improving intimacy among couples. Founded by four dreamer-entrepreneurs, The SaintLeaf advocates for people to embrace their divine nature.
The post Embrace Divine Nature with This Up and Coming CBD Brand first appeared on PRUnderground.
Press Contact
Name: George Flowers

Phone: 9495491003

Email: Contact Us

Website: https://www.TheSaintLeaf.com
Original Press Release.