The groundbreaking documentary film, which follows the present-day cultural exchange between Africa and Cuba, igniting a new musical movement called Bakosó, is scheduled for national distribution on PBS on May 3, 2021.
(PRUnderground) May 3rd, 2021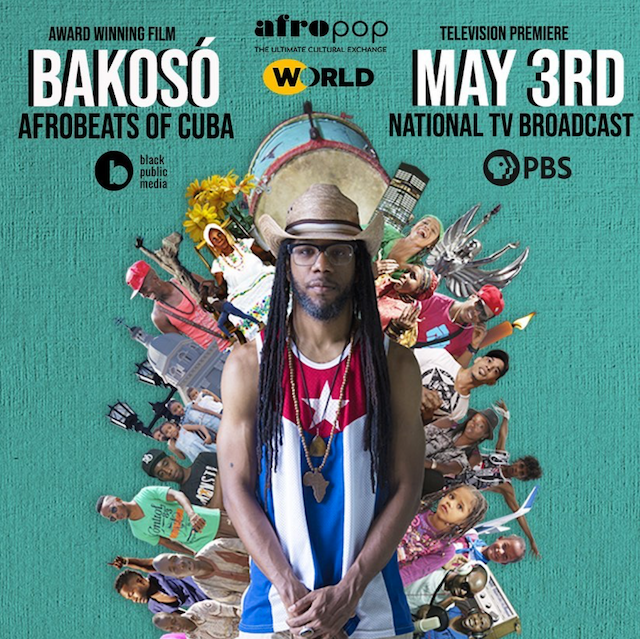 Bakosó: AfroBeats of Cuba won multiple awards in film festivals around the world before the global pandemic shut the lights off in theaters everywhere. Now, the documentary is set for its nationwide premiere on PBS World Channel on Monday, May 3, 2021, presented by Black Public Media's AfroPop series. Director Eli Jacobs-Fantauzzi sheds light on this unique and uncharted genre, which adds color, depth, and rhythm to the Cuban musical scene.
With the emergence of AfroBeats in popular culture, many US-based artists have borrowed rhythms, dance moves, and lyrics to reach wider audiences without acknowledging their African origins. Bakosó counters that approach and proudly pays homage to the African continent and its rich ancestral ties, spiritual connections, and of course, musical influence in Cuba.
The film follows the journey of DJ Jigue – the founder of the first independent Afro-Cuban music label on the island – to his hometown of Santiago, long-considered to be Cuba's cultural capital and the center of African diasporic movements. As he encounters challenges along the way, audiences are transported to Cuba, discovering cultural complexities and an infusion of beautiful imagery, to witness the birth of a new genre – Bakosó.
"For generations, the people of Cuba have relied on Afro-Cuban drum rhythms and dance rituals as an expression of religion, culture, and community," Jacobs-Fantauzzi said. "This strong link continues today in the form of a collaborative exchange, resulting in the creation of a contemporary genre led by the youth, and deep-rooted in practices of those who came before."
Bakosó: AfroBeats of Cuba is presented by Black Public Media's AfroPop series on WORLD CHANNEL on PBS and will premiere nationwide on Monday, May 3, with follow up screenings throughout the month depending on your local PBS station. Join audiences for the broadcast, which promises to inspire, and have you singing and dancing to the beats of Bakosó!
Advanced viewing available for press upon request. Check out the powerful trailer HERE!
About FistUp TV
FistUp TV, founded by award-winning filmmaker, Eli Jacobs-Fantauzzi, is a production company that documents people's stories from around the world as a way to expand community awareness around issues of social responsibility and cultural identity. For more information visit http://www.fistup.tv/ | Instagram @fistuptv @bakoso_cuba
About 3L Communique Inc.
3L Communiqué is an event production, public relations, and social media management company founded by award-winning journalist, Zayda Rivera.
The post Award-Winning Film, Bakosó: AfroBeats Of Cuba, Exploring Contemporary African Influence On Cuban Music, Is Set For Nationwide Premiere On PBS World Channel May 3 first appeared on PRUnderground.
Press Contact
Name: Zayda Rivera

Phone: 347-949-3365

Email: Contact Us

Website: http://www.3LCommunique.com
Original Press Release.