Why Seek Out 'Moats' in Your Value Investing Strategy?
June 01, 2021 at 09:19 AM EDT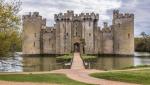 As value continues to outdo growth when it comes to capturing investor interest, many advisors are considering funds like the VanEck Vectors Morningstar Wide Moat ETF (MOAT). Fundamental analysis involves finding value among companies that have a competitive advantage in their respective...