Why Is Bitcoin Mining So Energy Intensive?
June 21, 2021 at 12:20 PM EDT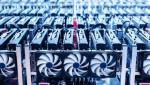 Crypto critics often cite the environmental impact of Bitcoin mining as a major reason for concern, but why exactly is mining so energy intensive? And what exactly is Bitcoin mining in the first place? Simply put, Bitcoin mining is the process by which more Bitcoin is created. But it's more than...