Joan McManus-Massey, a Senior Vice President & Partner at Aon, was recently chosen to be featured in the Top 50 Fearless Leaders Publication by the International Association of Top Professionals (IAOTP).
(PRUnderground) July 27th, 2021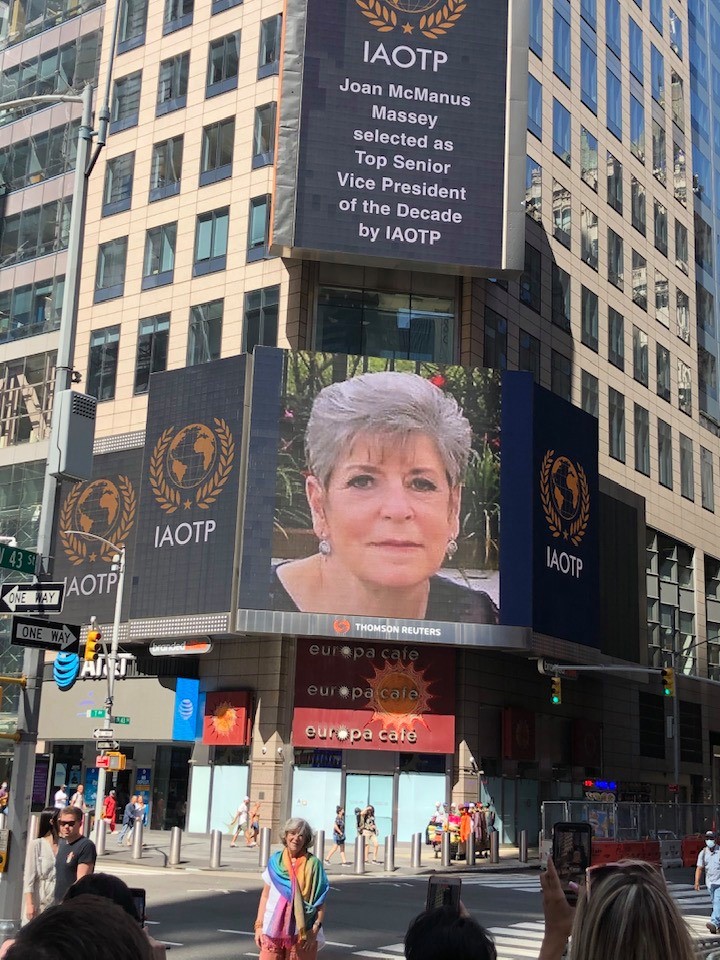 Joan McManus-Massey, a Senior Vice President & Partner at Aon, was recently chosen to be featured in the Top 50 Fearless Leaders Publication by the International Association of Top Professionals (IAOTP).
While being selected to be published in IAOTP's Top 50 Fearless Leaders Publication, is an honor in itself, only 50 of the world's most brilliant, courageous, inspirational professionals are selected for this distinction.
These special honorees are hand selected to share their stories of perseverance, resilience, passion and strength. They have made outstanding contributions to society; they have impacted their industries and are respected in their trades. A chapter will be dedicated to each honoree and the book is anticipated to be released in the 4th quarter of 2021.
Joan has exemplary brilliance in her field and has dedicated more than four decades of her career to global human resources, business operations, and people solutioning with the most recent focus in the Mergers and Acquisitions (M&A) arena. In 2018 She was recognized as Top Senior Vice President of the Year and Joan received the Empowered Woman of the Year award in 2019. In addition to these merits, she was honored for the prestigious Lifetime Achievement award and was named Top Senior Vice President of the Decade for 2021 by the International Association of Top Professionals (IAOTP). She will be honored at IAOTP's annual awards gala at the NYC Plaza Hotel at the end of this year.
Throughout her career, Joan has held a number of senior positions and has demonstrated success in all. In her current capacity at Aon her primary focus is working with clients as they plan for people integrations resulting from mergers, acquisitions, and/or outsourcing initiatives.  The focus of this work is to identify the logical solutions for the transition of employees that are fair, compliant with all labor requirements, and enhance the company's ability to successfully integrate new businesses and new employees.
Prior to joining Aon, Joan enjoyed a long and successful career with AT&T in a broad set of business functions, including global mergers and acquisitions, global human resources, and finance. Joan lead a highly talented group of HR professionals in the people solutioning required for successful acquisitions, divestitures, insourcing and outsourcing projects.  She represented HR with the business, finance, and legal in the areas of organization design, talent assessment and HR solutions; due diligence; contract negotiations; employee transition and integration; and employee communications.  During her tenure in this position, she was engaged in many domestic and global transactions.
Before embarking on her professional career path, Joan received her bachelor's degree in social work from the Catholic University of America in Washington, D. C.  She also attended several executive programs in HR and Labor strategies at Cornell, Wharton, and the University of Michigan.
Throughout her remarkable career, Joan has received awards, accolades and has been recognized for her outstanding leadership and commitment to the profession, and for treating employees and business partners with the utmost of respect and dignity. She was recently featured on the famous Reuters Billboard in Times Square NYC and she will be inducted into IAOTP's Hall of Fame at the end of this year.  She graced the front cover of TIP (Top Industry Professional) Magazine, and she will be considered for an exclusive interview on the international TIP Radio show hosted by former Miss Universe Michelle McLean.  For 2017 she was selected for the Outstanding Professional of the Year by the Worldwide Association of Notable Alumni.
In addition to her successful career, Joan remains active within her community by volunteering her time and expertise.  She has facilitated tutoring programs, participated in the Junior Achievement programs, supported local town little league activities as a member of their board of directors as well as leading their Parent Volunteer Program.  Joan volunteers in programs supporting the Leukemia and Lymphoma Society's First Connection program and Light the Night activities. Lastly, Joan recently joined the Board of Directors of the Boys and Girls Club of Monmouth County supporting their efforts to continue to develop and deliver excellent childcare programs to the community.
She attributes her success to her education and training, her perseverance and professionalism and her passion for the work she does.
No one stands alone in their lives and Joan is no exception. Her family and friends are critically important to her and she ensures there is always time and room for them in all she does.  In her free time, Joan enjoys cooking, good wine, family gatherings, traveling, and reading.
For the future, she hopes to influence others in a positive way through her leadership and she is determined to make a difference in people's lives any way she can.
For more information on Joan please visit: https://www.linkedin.com/in/joan-mcmanus-massey-8404479a/
Watch her video: https://www.youtube.com/watch?v=ZePQSRyoIA4
About IAOTP
The International Association of Top Professionals (IAOTP) is an international boutique networking organization that handpicks the world's finest, most prestigious top professionals from different industries.  These top professionals are given an opportunity to collaborate, share their ideas, be keynote speakers, and to help influence others in their fields. This organization is not a membership that anyone can join.  You have to be asked by the President or be nominated by a distinguished honorary member after a brief interview.
IAOTP's experts have given thousands of top prestigious professionals around the world, the recognition and credibility that they deserve and have helped in building their branding empires.  IAOTP prides itself to be a one of a kind boutique networking organization that hand picks only the best of the best and creates a networking platform that connects and brings these top professionals to one place.
For More information on IAOTP please visit:   www.iaotp.com
The post Joan McManus-Massey selected to be featured in IAOTP's Top 50 Fearless Leaders Publication first appeared on PRUnderground.
Press Contact
Name: Stephanie Cirami

Phone: 212 634 4427

Email: Contact Us

Website: https://www.iaotp.com/
Original Press Release.