Base Camp Coding Academy (BCCA) hosted both the Class of 2020 and the Class of 2021 and their guests for graduation, and BCCA has brought on two new staff members this month.
(PRUnderground) August 18th, 2021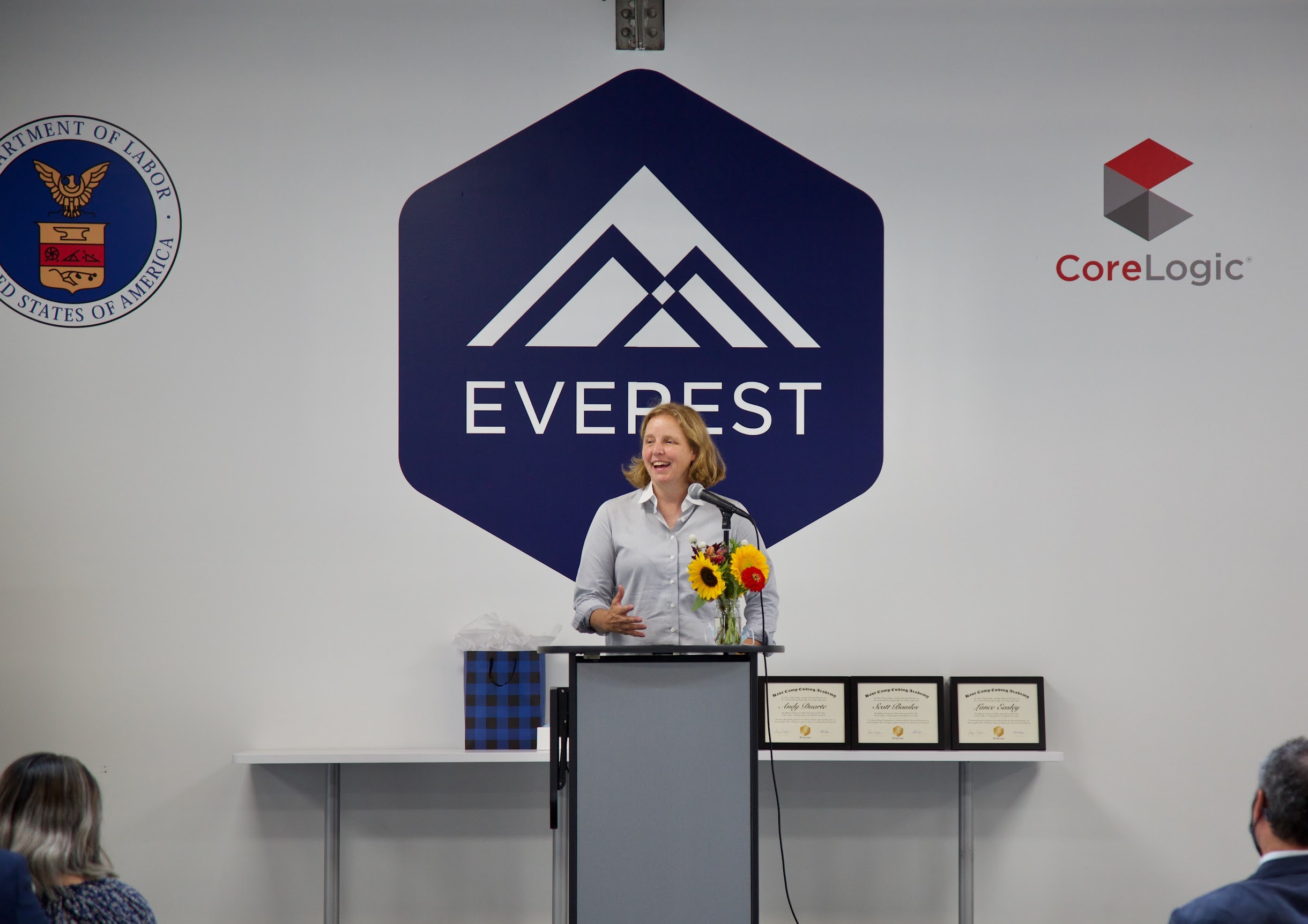 Class of 2020 and Class of 2021 Graduation Ceremonies
On Saturday, August 14th, 2021, Base Camp Coding Academy (BCCA) hosted two graduation ceremonies at Everest.  Since the Class of 2020 was unable to have its own in-person ceremony last year, we wanted to honor them in person this year.  We also hosted the graduation ceremony for the Class of 2021 since they just finished the program on August 13th due to the Covid-delayed start last year.  The Class of 2020 graduated Saturday morning, and the Class of 2021 graduated after a joint lunch hosted in the large open space at the back of Everest.
We were lucky enough to have the phenomenal Megan Smith speak at both ceremonies. Megan is the former United States Chief Technology Officer, and she currently serves as the Chief Executive Officer of shift7.  Megan spoke to the students about inclusion, data bias, the pursuit of knowledge, and making a difference in the world through technology.  She encouraged them to use their new skills to champion causes they care about and search out ways to make a difference in their local communities.  It was an extremely inspiring and enlightening talk.
We are so proud of all the graduates and so grateful to all the families, mentors, staff, board members, and sponsors that helped make possible each student's successful completion of this program.
New Director and Technical Director
Base Camp is excited to announce the hiring of two new staff members! Brittany Cohen started on August 2nd, 2021 as the new Technical Director, and Sean Ennis will start as the new Director on August 23rd, 2021.
Of course, we are sad to see our former Technical Director Nate Clark and Director Fernae Ellard leave.  However, they are both moving on to exciting new opportunities that will keep them connected to Base Camp through the placement pipeline, and we are very grateful for their continued support of our program.
Both Brittany and Sean bring new perspectives to Base Camp through their unique previous experiences.
Brittany Cohen is from Clarksdale, MS and has over five years of experience in education. Formerly, she was the Engineering and Exploring Computer Science teacher for the North Panola School District. While in education, she was awarded 2020 Teacher of the Year by Panola Partnership. She graduated from Mississippi Valley State University with a Bachelor of Science in Computer Science.
Sean Ennis holds a BA in Philosophy from LaSalle University and a MFA in fiction writing from the University of Mississippi. He has served as a Writing and Literature Instructor and an Academic Mentor at the University of Mississippi.  He is the author of Chase Us: Stories published by Little A, an imprint of Houghton Mifflin Harcourt.  He lives in Water Valley, MS.
About Base Camp Coding Academy
Located in Water Valley, MS, the non-profit Base Camp Coding Academy (BCCA) is a hands-on, challenging and fun program, designed to train recent high school graduates to be software engineers. In a small classroom setting, students work with real world technologies to learn the fundamentals of coding, app development and the life leadership skills they will need to be successful in their career and competitive in the job market. The year-long program is free to students thanks to the support of Sustaining Sponsors including the MorganWhite Group, CoreLogic, Renasant Bank, CSpire, and FedEx and aims to help address the private sector's historical shortage of high-tech skilled labor by training local youth to fill the positions. Every year, Mississippi has 1,200 unfilled computing jobs and less than 200 computer science graduates.
Everest, also located in Water Valley, Miss., is a partnership with Northwest Mississippi Community College, The City of Water Valley, Delta Regional Authority, and corporate and philanthropic sponsors to develop Mississippi's first Rural Education and Innovation Hub providing tech and tech adjacent workforce training in this previously underserved region of Mississippi.
The post Base Camp Coding Academy Graduation Ceremonies and New Staff first appeared on PRUnderground.
Press Contact
Name: Corey Mize

Phone: 662-801-8319

Email: Contact Us
Original Press Release.