Amsoil saves John time & money. He discovered how to experience less engine wear, save on fuel, and only change oil every 25,000 miles.He has more horsepower, less friction, cooler-running engine, squeaky clean engine, and easier cold starts.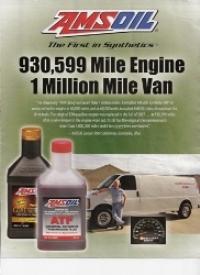 Gilbert, United States - October 27, 2021 /PressCable/ —
John Schlimmer has driven over 1,4 million miles in his 1999 Chevy van, because he found the combination, like a fountain of youth that made his van almost immortal.
In early September of 1999, John purchased a new Chevy Express cargo van and started a delivery service. Much to his surprise, the delivery service turned out to be an 8,000-10,000 miles a month adventure, delivering all over the USA. He was changing his oil two times a month, every 5,000 miles.
In April of 2000, John discovered Amsoil products and their unbelievable 25,000-mile oil change. In May 2000, at 68,250 miles, he put the AMSOIL products to the test. He changed his engine oil, transmission oil, and differential oil over to Amsoil.
August of 2000 at 103,750 miles, the oil was at 35,500 miles, so he drained it and sent a sample into Amsoil to be analyzed. A week later, with the report in hand, he called Amsoil to go over the details. To his amazement, they said: "your oil is good for another 10-15,000 miles. Just change the oil filter".
This was fantastic and literally life changing news for John. Instead of changing his oil 24 times a year, it dropped to 4 a year. Knowing he'd never need to change his oil at 5,000 miles again was a huge relief.
In October 2007 at 930,599 miles while John was in Jackson MS., a valve keeper that was not oil-related wore out in his 350 Chevy engine, causing one of the valves to stick. He replaced the engine and had the original engine sent to Amsoil. They tore it down and specked it out. To his amazement, it had less than 1% wear throughout the engine. See it for yourself here: The Tear Down of the 930,599-mile engine with less than 1% wear is on his website.
He found out what happens when switching to Amsoil synthetic products. Schlimmer discovered increased MPG, cooler-running engine, transmission and differential, fewer oil changes, less waste oil. With Amsoil he had much fewer repairs & maintenance and easier cold starts since Amsoil pours and flows at -50 below.
As of October 2021, his 99 Chevy still has the original transmission at over 1.4 million miles and never needed to be overhauled due to using the Amsoil synthetic transmission fluid.
He was so thoroughly impressed that John became an Amsoil Dealer. He now shares with everyone how to escape the 3,000-5,000 mile oil changes. The best news is that everyone can have a Super Hero vehicle. While slashing oil and fuel costs, Amsoil products can make vehicles and equipment almost immortal.
John can be contacted by going to his website. He shares the secret of saving even more money purchasing Amsoil at Rock Bottom Prices.
Contact Info:
Name: John Schlimmer
Email: Send Email
Organization: Million Mile Chevy
Address: 2889 S Nielson Street, Gilbert, Arizona 85295 , United States
Website: https://millionmilechevy.com
Source: PressCable
Release ID: 89050040