This is now the 4th week of the market's meltup. For us, the outcome is not surprising, and we are enjoying the results. Since inception, the S&P 500 (SPY) is up about 14%, while our portfolio is up 26.5%. In today's commentary, I want to talk about why the market is so strong and been so favorable for growth investing and small and mid-cap stocks, then lay out some more thoughts on the market's roadmap into year-end. Read on below to find out more…
(Please enjoy this updated version of my weekly commentary published November 8th, 2021 from the POWR Growth newsletter).
First, let's take a look at the past week: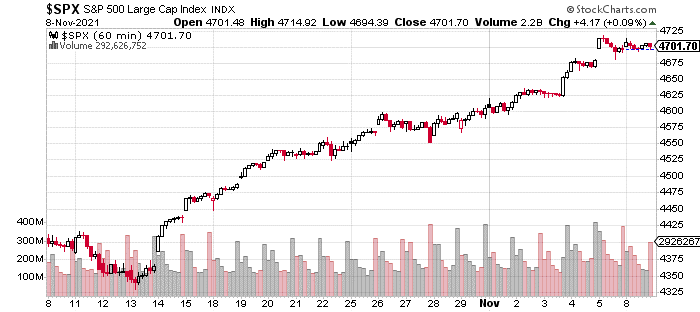 As we can see, the S&P 500 had a nice and tidy 100 point gain over the past week. And once again, the Russell 2000 staged an even more impressive performance with a 3.6% gain.
Last week, I wrote:
Sometimes, the market moves to new highs, and it feels tenuous. Like the market just used up all its energy to just get to the lofty perch, and any little bit of selling pressure will sent it tumbling lower.
This is not one of those times.
The market advance has been on solid footing. The advance is also deep in terms of market breadth with cumulative breadth measures breaking out to new highs for the first time since February.
Another way to look at breadth is through the New Highs- New Lows Index. And, this is also sending a strong signal that we are seeing a spike in the number of stocks making new highs which is also consistent with a broad-based advance that can trend higher for weeks or months.
So, we have a favorable market structure in addition to bullish market conditions.
Nothing has changed, so it remains in the commentary.
And, the reason for the market melt-up is the same – an incredibly strong earnings season which only got even better over the last week.
I didn't think it could get any better when S&P 500 earnings hit 36.6% for Q3 last week. Well, now it's at 39.1%.
This is why the market is at all-time highs. It's why the market is melting up and ignoring every overbought technical indicator.
It's also why small and mid-cap stocks are benefitting in the current environment and leading the current advance. We are at an inflection point with economic growth re-accelerating after dipping due to the delta variant.
Thus, I expect tailwinds to growth in the form of travel, restaurant, and retail sectors returning to full capacity, industrial production improving as bottlenecks ease, and inflation abating due to facing higher comps and falling costs with supply chain issues on the mend.
And, it's not a coincidence that we've overloaded the portfolio with stocks that should benefit from these catalysts.
Finally, this has been a very positive development for mid-cap and small-cap stocks and growth stocks which dominate our portfolio.
For many months in the spring and summer, I was cautious with a higher than average cash position and more aggressive risk management due to recognizing that the market environment was not friendly to these types of stocks.
Instead, we preserved mental and financial capital for a more favorable environment – like now.
Year-end Roadmap
This melt-up has been remarkable in its behavior and the distance it's covered in such a short period of time. I've learned that these types of moves can go on longer and can condition traders to buy any dips for many months.
I actually believe that these melt-up conditions could persist for the remainder of the year. Of course, there should be a couple of dips around 2 to 4% and pullbacks between 5 to 7% that will provide excellent opportunities to rebalance our portfolio.
What To Do Next?
The POWR Growth portfolio was launched in early April and is off to a fantastic start.
What is the secret to success?
The portfolio gets most of its fresh picks from the Top 10 Growth Stocks strategy which has stellar +46.42% annual returns.
If you would like to see the current portfolio of growth stocks, and be alerted to our next timely trades, then consider starting a 30 day trial by clicking the link below.
About POWR Growth newsletter & 30 Day Trial
All the Best!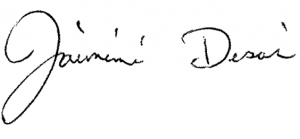 Jaimini Desai
Chief Growth Strategist, StockNews
Editor, POWR Growth Newsletter
SPY shares were trading at $466.99 per share on Tuesday morning, down $1.94 (-0.41%). Year-to-date, SPY has gained 26.13%, versus a % rise in the benchmark S&P 500 index during the same period.
---
About the Author: Jaimini Desai
Jaimini Desai has been a financial writer and reporter for nearly a decade. His goal is to help readers identify risks and opportunities in the markets. He is the Chief Growth Strategist for StockNews.com and the editor of the POWR Growth and POWR Stocks Under $10 newsletters. Learn more about Jaimini's background, along with links to his most recent articles.
What Strong Earnings and Other Growth Tailwinds Mean for the Market
appeared first on
StockNews.com